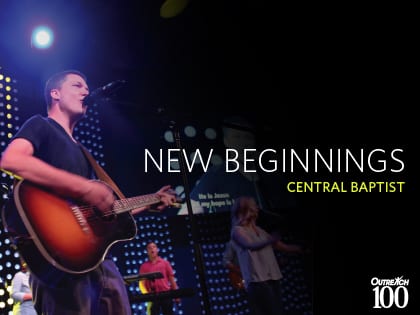 When Brian and Rhonda Harvey got married in 1998, they came to loggerheads over whose church to attend—and ended up sleeping in on Sundays for the next 11 years.
A few years ago, though, their relationship had largely gone south and Brian realized he hadn't been a "very good husband or a very good dad," so he fell on his knees and asked Jesus to help save his family. Afterward, the couple and their two boys began attending Central Baptist Church in Jonesboro, Ark. At the church, a longtime friend invited them to attend a marriage retreat.
"I don't think it was a coincidence," says Brian. "We walked in on a Friday night and by the time Sunday had come we had recommitted ourselves to the Lord and to our marriage."
Not long afterward, the couple's two boys gave their hearts to Jesus and the entire family was baptized.
"I think you have to give credit to whom credit is due and that's the Lord Jesus Christ," says Dr. Archie Mason, the senior pastor of a church that has seen its average weekend attendance grow from 800 a decade ago to 3,200 today. "We are just a part of something he's doing in northeast Arkansas. He gets all the glory and credit."
The church has a colorful history and traces its origins to a tent revival in 1930 during the Great Depression at which time a "fist fight broke out" and the police were called, Mason says. Originally called Tabernacle Baptist Church, the church had dirt floors with benches and later was one of the first to have radio broadcasting ability for daily shows.
Mason became the pastor of Central Baptist in 2005 and attributes its growth over the last decade to several factors, including great leaders, a growing community, the decision to become a multisite church, a talented website and social media team and an emphasis on evangelism.
"We're a very evangelistic church," Mason says. "We give invitations to come forward. We're kind of old school—asking people to walk down the aisle to receive Christ. We visit people too. We go to people's homes, if they allow us."
The church is located in the heart of the Bible Belt with 150,000 people in a 25-mile radius, according to Mason, but 80 to 90 percent of those people aren't attending church each Sunday. Mason says he's doing what he can to change that.
"You could fill this church 10 times over and still not reach everyone," Mason says. "Even though we're in the middle of the Bible Belt, we have a very lost community surrounding us."
"The Lord is calling us to reach people, but our culture is changing very fast and it's hard to really adapt to that change," says Mason. "I'd say those are the challenges we face. The Word of God never changes and we understand that, but the culture is changing and we have to know how to relate to that culture."
CENTRAL BAPTIST CHURCH
Jonesboro, Ark.
Senior Pastor: Archie Mason
Twitter: @archiemason
Website: CentralBaptist.com
Founded: 1931
Affiliation: Southern Baptist
Locations: 3
Attendance: 3,208
Growth in 2013: +402 (14%)
Fastest Growing: 72