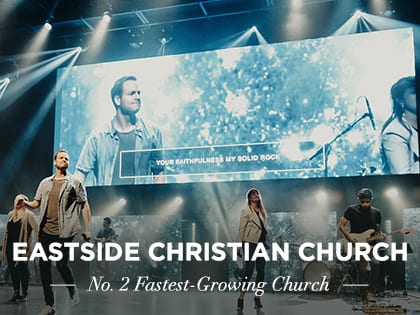 "I love seeing the power of the gospel to change lives of people from all walks of life, ethnicities, circumstances, and backgrounds—who in turn become change-makers that God uses to transform more lives. It never gets old," says Senior Pastor Gene Appel. "Eastside recently marked 55 years of pursuing God, building community, and unleashing compassion—yet there is so much vision for the future that there's a pervasive sense that we are just getting started. I genuinely drive to my office every morning saying, "God, thank you that I get to be a part of this!
"How are we growing? That is such a pervasive question I'd rather answer in sound bites to cover more ground: simple focus on pursuing God through weekend services; building community through small groups and serving; and unleashing compassion next door, in our communities and globally; a courageous elder board; a high-caliber executive team; an empowered and gifted staff; spiritual surrender; compelling vision; a unifying, strategic-ministry planning process twice a year; replicable processes and systems for assimilation, discipleship, serving and unleashing compassion for each campus; multiplication mindset; preaching that calls to action; clarity of roles; authentic worship; no ministry silos."
Be sure to pick up a copy of the 2017 Outreach 100 special issue for an exclusive interview with Gene Appel.
Read about the No. 1 fastest-growing church »
Read about the No. 3 fastest-growing church »
EASTSIDE CHRISTIAN CHURCH
Anaheim, California
Senior Pastor: Gene Appel
Website: Eastside.com
Twitter: @GeneAppel,@Eastside_CC
Facebook: /EastsideCC
Founded: 1962
Affiliation: Independent Christian Churches
Locations: 3
A 2017 OUTREACH 100 CHURCH
Attendance: 7,183
Growth in 2016: +1,979 (38%)
Fastest Growing: 2
Largest: 66