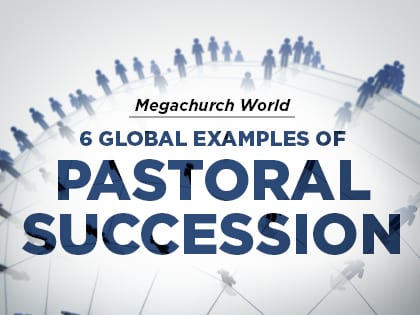 "Every pastor is ultimately an interim pastor. In all likelihood, learning to do succession well is essential for every church leader."
In our Megachurch World series, we take a close look at large churches around the world that are successfully and systematically reaching people with the gospel.
I was in Kenya, sitting in the office of a 40-year-old pastor whose weekly worship attendance was 6,000. "What if, God forbid, your health suddenly didn't allow you to continue as pastor?" I asked. "What is your succession plan?"
He explained that his denomination is very active in planting churches and training new waves of church planters. "We have many who lead large churches like the one I serve," he said. "One of them would come here."
Then he commented, "The bigger danger is that we might stay too long." He showed me the section in his denominational manual that requires pastors to pass the leadership baton by age 65.
"Are older pastors preparing for that day?" I asked.
"I hope they know how," he said.
The Global Wave of Pastoral Succession Has Started
Recent decades have seen an explosion of global megachurches, many of which are going through their first major senior pastor transition. In my public list of more than 500 international megachurches, I found 17 percent of senior pastors to be below age 50; 37 percent in their 50s; and 46 percent—almost half—to be 60 or older.
The situation internationally has parallels to the United States, where 82 percent of our very large churches have experienced their greatest growth under their present senior pastor.
The international leadership handoffs are happening from many different triggers, not just retirement.
6 Global Examples of Pastoral Succession
1. At China's largest church, the government just forced the longtime senior pastor to step down. The likely reason is that he protested a government policy that forced several church facilities to remove their outdoor crosses. The city's clergy council has appointed an interim successor.
2. The senior leaders at each of Nigeria's largest churches are 62, 74 and 75. None have announced a succession plan.
3. The senior pastor of one of the United Kingdom's largest churches retired and his long-time associate pastor—who had come to faith in Christ at that church—was appointed to take his place, and the church has continued to grow and reach out.
4. The founding pastor at one of Singapore's largest churches is claiming innocence in a government case that will likely land him in jail for up to eight years. If so, his wife may well become the senior leader.
5. The largest Nazarene congregation in Brazil recently saw a smooth leadership transition from father to son.
6. The world's largest church is in Korea, and the pastor who founded the church, upon reaching the age of 72, passed the leadership baton to someone 18 years younger. The successor had long ago been a staff pastor at that church, and then came to the United States to be senior pastor of a large church.
Different Models of Pastoral Succession
These six examples show the wide variety of sources for a pastoral successor, each of which has its pros and cons:
Family successors, such as a spouse or child, are already known and loved when they begin their new office. Plus, they understand the church's history and know the inside story of how things really work. The transition is usually smooth and joyful. The congregation's financial support rarely shows a dramatic change.
The too-frequent downside of a family succession is the lack of outside coaches and trainers with the ability to speak into that person's life. Family successions, due to their "untouchable" status, have more blind spots or undeveloped areas that people outside the family can see, while family members may remain oblivious.
Nonfamily staff members who become the senior pastor likewise share many of the perks that benefit family members. Often, because they lack the family surname or likeness, they can more easily develop a unique identity for themselves, and usher in new perspectives.
Those differences can also become a potential downside if the changes they bring—simply by who they are—are too different than the decisions of the pastor they're following.
Denominational and similar church network-appointed successors have the potential strength of pulling high-capacity candidates that might not otherwise be willing to change churches. As they take office, such people come with the support of their superiors and often a network of new contacts, ideas and experiences to draw from. Their success rate is often much higher if there is overlap between them and their predecessor.
The downside is the newcomer might be a terrible match for the culture of the church. The new pastor might not fit well with the existing leadership.
In numerous places the Bible teaches us to learn from others—both the good and the bad. In many ways, overseas churches are ahead of us and we would do well to learn all we can from them. As the oft-quoted opening sentence to Next: Pastoral Succession That Works, a book I co-authored with William Vanderbloemen (Baker Books), says: Every pastor is ultimately an interim pastor. In all likelihood, learning to do succession well is essential for every church leader.
Warren Bird, an Outreach magazine contributing editor, is research director for Leadership Network and author or co-author of 27 books for church leaders. Bird oversees Leadership Network's list of global megachurches at LeadNet.org/world.