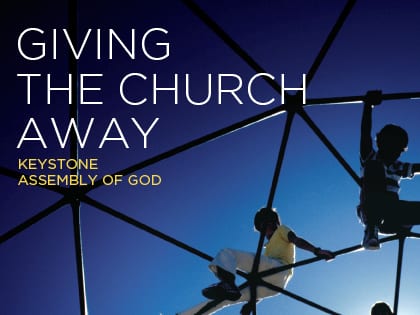 Stephen Shaw: "I'm convinced that since we took such a radical stance of giving the church away—of wanting the kingdom of God to expand—the Lord really responded."
The Obstacle
When Stephen Shaw arrived in Carson, Calif., to take over the pastorate of Keystone Assembly of God, he found what he describes as a contentious, aging congregation that had been without a pastor for years. Three months after being narrowly voted in by the 30-member congregation, he happened to be outside the church building as a nearby school let out. Kids streamed past him, and he realized there was "not a white face in the crowd." The neighborhood, built in the postwar suburban sprawl in Los Angeles, had been all-white in the 1950s, but had changed twice over since then. Now, it was completely made up of Filipino and Samoan people, while the congregation stayed white—the aging members drove in from other neighborhoods for services. As Shaw stood watching the children's faces, one thought came to him strongly: "We've gotta be that!" Further, after having some cultural clashes with the church's Filipino neighbors, he realized that for Keystone to thrive in this neighborhood, it had to change—drastically.
The Opportunity
The bylaws in the church stated that once the minister is voted in, there would be another vote one year later, this time for an indefinite term. I knew that this vote needed to be not only for me, but for the direction I wanted to take the church. I didn't want to be accused of being dishonest about what I wanted to do. The Lord had shown me this was going to be a Filipino church. So for the next nine months, I focused on bringing the people along to that vision.
I didn't want to merely incorporate a Filipino congregation into our church. In Los Angeles, you see this a lot—a church with a sign in multiple languages, stating different times for different services: Korean at 2:00 p.m., Filipino on Saturday night, but the prime 11:00 a.m. hour is still for the original white congregation. In their mind, they're doing the gracious thing, but it's a huge financial incentive, especially in L.A. where church buildings are rare and in high demand. Keystone owned its building and had no debt, so I told the congregation, "I'm not looking to start a Filipino church at 2:00 p.m. on Sunday, I want us to be a Filipino church—we're going to give this thing away."
In that nine-month period, I began to do coffees and lunches with the existing members, let them ask their questions, and I was very upfront with them about the idea of giving the church away, and how the kingdom of God embraced that. I showed them what a legacy they could have by being involved in something like this at this stage in their lives.
I didn't give anybody marching orders … I sold it. I pitched it, and I convinced everyone that giving the church away to our Filipino neighbors was in their best interest. I assured them we weren't leaving anybody behind, and I allowed them to tell me the truth—I let them air their racial feelings, understanding that it's human nature, and not labeling them as racists.
When we took a vote on the one-year anniversary of my arrival, I stated clearly, "You're voting for me, but I've got a vision to transform this congregation; a vote for me is a vote for that." The vote was unanimous—in favor of my staying.
The first Filipino in our church was a guy I hired to be associate pastor—he wasn't the youth pastor, he wasn't the Filipino pastor, he was the associate pastor. Relationships developed and people started coming with him, because of him. So I began a Friday night service, a social time especially for those who just arrived in the country and were getting acquainted. I would do a Bible study, and it really warmed up. Soon, we had lots of people coming on Sundays; we saw financial miracles, healings, salvations. I had young Filipino couples who were living together coming to me to marry them; others living illegally in the country turning themselves in to Immigration Services and coming back with legal status.
I'm convinced that since we took such a radical stance of giving the church away—of wanting the kingdom of God to expand in Carson—the Lord really responded. When I resigned, some people didn't want me to go but I knew it was time; the leadership, the board, everything—was completely run by Filipinos.
—Stephen Shaw, as told to Joy Netanya Thompson
[Editor's Note: Today the church is called International Church of Harvest.]