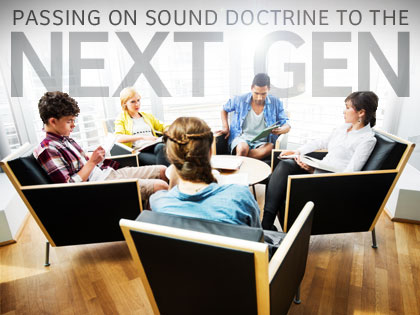 When it comes to the emerging generations, we may need to teach doctrines no one is asking about.
More than 35 percent of our church is college students, so a recent message series felt a little risky.
At a time when you often hear that emerging generations don't want to hear about doctrine and theology, we designed a 14-week classical systematic theology series to teach to the entire church. Our topics included Christology, the study of God the Son; bibliology, the study of the Bible; eschatology, the study of the end times; and angelology, the study of angels, demons and Satan.
Our Sunday attendance has grown, and lives are being affected. A college student emailed me that her four non-Christian friends have been coming and are fascinated. One Sunday, we taught the doctrine of salvation, defined words like "justification" and invited people to "pray a prayer" of salvation. Many responded and told me afterward that they put faith in Jesus.
Sometimes we can put so much emphasis on doctrine that emerging generations lose interest, but at the same time, I sense a desire among them to learn truth and doctrine. Here are some lessons we've learned about teaching it:
We may need to teach doctrines no one is asking about. In all the years I have surveyed our church and asked people what they wanted to learn, some doctrines never have been mentioned.
For example, no one has asked me to spend a whole Sunday on the doctrine of angelology and Satan. But teaching on the invisible world is critical to understanding the spiritual realm Scriptures teach is all around us. Sometimes even if no one asks about it, we still need to teach it.
We can teach systematic theology in a narrative format. As we have taught this series, every week we've drawn a basic timeline on a large white board and drawn in creation, the fall (which we defined), and the story of Abraham, Israel, Jesus, the cross, the church age, the end times, the future new heavens and new earth, etc. We have talked about how each doctrine fits in the whole narrative of the Bible.
We can make learning doctrine and theology fun.
In this series, we have had a "quiz" every week. It is fun as we ask questions from the week before and give out prizes like Testamints, the campy Christian mints with Bible verses. We also have brought in a seminary professor four times to conduct open forums at which the professor and I respond to the many questions people have put in a huge box we placed in the lobby. This provides some interaction and reinforces the ethos that asking questions is a good thing. We also are not afraid to say, "We don't know," when some questions are beyond answering.
We can teach historical orthodoxy and the variety of opinions within it. We can share how godly scholars have differing opinions on theology, yet are orthodox in their beliefs. By teaching the primary doctrines of orthodox Christianity, it then naturally becomes clearer when something isn't orthodox.
It feels like amid the pluralism, culture of tolerance, and a plethora of information on the Internet, there is a hunger for doctrine, truth and learning historical orthodox theology. As leaders, we have a holy responsibility to be training new generations not only in basic life skills and biblical guidance for living, but also the doctrines of faith that ground everything we believe about who Jesus is, who God is, and what salvation is together.
Don't ever believe emerging generations don't want to learn doctrine and theology, but how we go about teaching it makes all the difference.