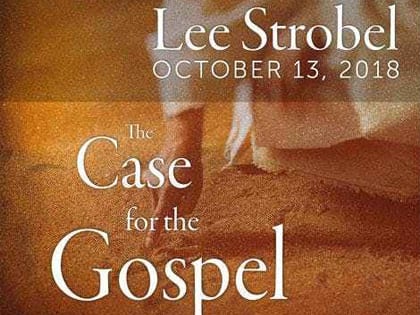 The Case for the Gospel With Lee Strobel
October 13, 2018
Shoreline Community Church
Monterey, California
Come join us for The Case for the Gospel with Lee Strobel. At this one-day event, Lee, a Pulitzer Prize-winning author, will share evidence for both the gospel and for miracles. Lee's background in journalism has led him through deep investigations of facts and evidence that proves the gospel story of Jesus. In his first talk, Lee Strobel will present evidence that the gospel is true. In his latest book, The Case for Miracles, Lee explored the case for miracles today, first speaking with leading atheists to present their case against miracles, then with Pastors and theologians. In his talk, Lee will present his evidence that there are still miracles today.
Also, plan to join us Sunday, October 14th, 4–7pm, for a viewing of The Case for Christ and Q&A with Lee Strobel.
This event is in conjunction with The Case for Christ Movie and Q&A with Lee Strobel event at Shoreline Church on Saturday, October 13th. Separate registration is required.
For more information and to register »
Find more events for church leaders »