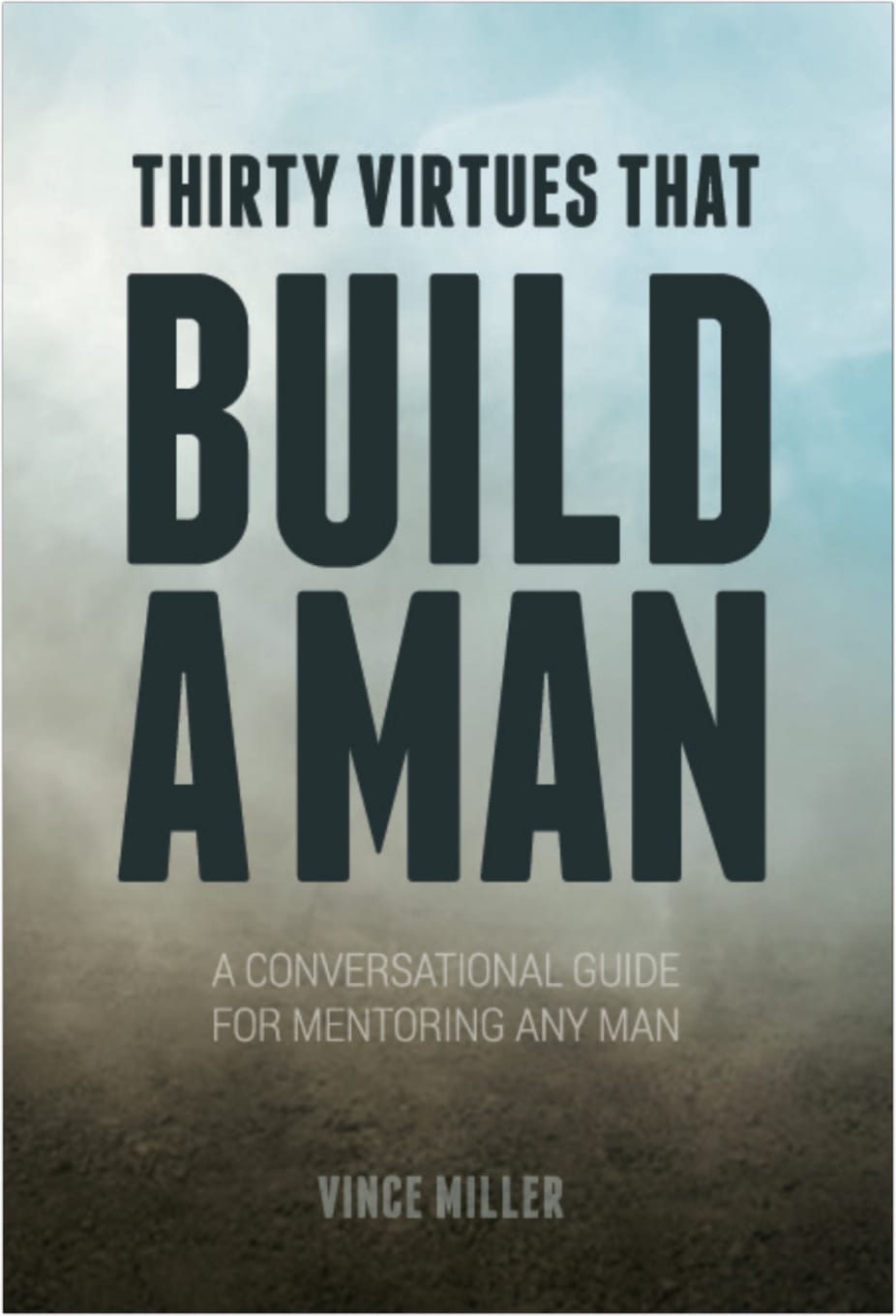 Vince Miller: A Conversational Guide for Mentoring Any Man
Thirty Virtues That Build a Man
A Conversational Guide for Mentoring Any Man
(Equip Press, 2018)
WHO: Vince Miller, author and speaker.
HE SAYS: "The enemy is not the culture, opposing beliefs, media, politics or even pornography. The enemy is apathy."
THE BIG IDEA: This 30-lesson guidebook is designed to help men mentor other men. Each lesson follows the same pattern: Begin with the Goal, Unpack Your Thoughts, Inform Through the Bible, Land on Action Steps and Do One action for One Week.
Topics include conflict, self-discipline, prayer, submission and obedience.
THE PROGRESSION:
Each of the 30 lessons follows the same pattern: Begin with the Goal, Unpack Your Thoughts, Inform Through the Bible, Land on Action Steps and Do One action for One Week.
Topics include conflict, self-discipline, prayer, submission and obedience.
"When we build better men, we build better homes, marriages, workplace, and churches. When one man gets better, everyone gets better."
Order this book from Amazon.com »
Read an excerpt from this book »
A CONVERSATION WITH VINCE MILLER
What inspired you to write this book?
First, I believe God has called me to be a voice for and to men in my time. Second, there is plenty of evidence that we need to build better men in the world today and more radical disciples for Jesus Christ, and mentoring was always the plan. Third, I wanted my boys to be great men and to understand what makes a man of God, and I felt compelled to show them what it means to be a man from God's Word. And fourth, for years I wanted a man to mentor me, but no one ever did, often because they were paralyzed in knowing what to do.
I believe this book addresses all of these issues. Men are hesitant to take the step to mentor or even ask someone to mentor and this simple conversational guide removes the mystery by using a simple questions asking process I call B.U.I.L.D. so that two men can sit across from each other of any age and use their own life story and the Bible to mentor men around 30 great topics of manhood.
Why has apathy taken over so many men?
I believe apathy is the oldest man issue in the Bible. Case in point, Genesis 3, and the infamous introduction of sin into the world. Here a man empowered with authority from God over the domain he created for him and a single moral command does nothing and says nothing in the face of sin and injustice. I have often referred to this as the birth of "male-pattern apathy." And I believe this single issue continues to be the challenge for men.
We need men today who are willing to counter with words and actions that oppose this apathetic reflex. In fact, I believe God has always been looking for a man who is willing to fight apathy on his behalf; note this great text from Ezekiel, "And I sought for a man among them who should build up the wall and stand in the breach before me for the land, that I should not destroy it, but I found none" (Ezek. 22:30). And throughout Old Testament history we witness a few moments of success, but yet still, God was looking for the one man who would live out his call perfectly. And in this void God self-provides his representation of perfect manhood in Jesus Christ. One who came fighting sin and injustice with definitive words and actions that I believe demonstrate how we should live.
What impact has this had on society as a whole?
Apathy in men is the Enemy's plan for silencing God's voice in our time. Just note the impact of statistics like these:
* 63 percent of youth suicides are from fatherless homes
* 85 percent of all youths in prison come from fatherless homes
* 90 percent of all homeless and runaway children are from fatherless homes, 32 times the average
I think the point is that apathy (a lack of the male voice) is impacting and will forever impact the next generation. I also believe apathy is presently having a significant impact on the church. Churches struggle to engage men, and if you need evidence for this, look around during a weekend service. Women feel it. Pastors realize it. And I think all audiences, including men, feel paralyzed by not knowing what to do. In the end, this lack of engagement is impacting the mentorship and discipleship mandate of the church, which is my present concern for men and the church. God's plan has always been mentorship and discipleship, and he wants our men to engage in his plan (Deut. 6:4–9; Matt. 28:18–20).
How can the church help equip men to be better?
I believe we can begin our journey of building better men with a single phrase that applies to two different audiences of men. Either we are a man who needs to be mentored, or we are a man who needs to mentor others. The plan is simple, and it was Jesus' idea, not mine. Jesus said it this way in his time, "Come follow me." In our day I think it sounds like this:
"Will you mentor me?"—The willing mentee
"I will mentor you!"—The willing mentor
And I believe I have built a simple guide that makes this simple. Grab some time with another man and have a conversation using the Bible and the B.U.I.L.D. process, and let's build better men in our day together.