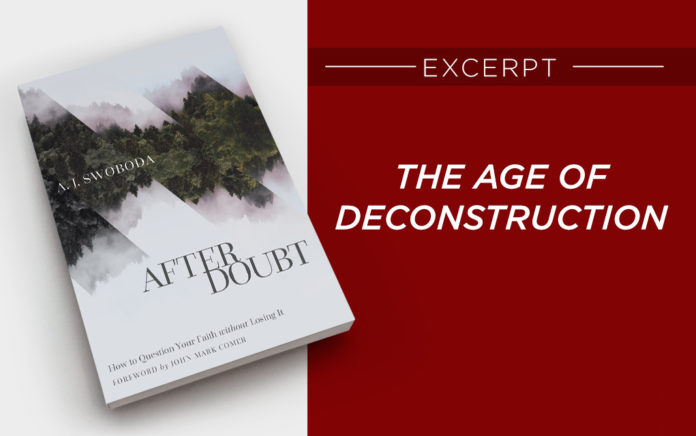 Excerpted from 'After Doubt' (Baker)
Excerpted From
After Doubt
By A.J. Swoboda
When we first met, Phil had recently moved to the Pacific Northwest. Like so many, his journey had brought him from a small, rural, mid-American town for a promising software job at one of the city's prominent firms. He'd been hired on the spot after a phone interview. Before leaving home, Phil's youth pastor admonished him to find a "Bible-teaching, Jesus-worshiping, missional church" in Portland. Entering these exact descriptors into Google, the magical demigods of the internet providentially provided the name and contact info for the church I pastored. The subject line read: "Looking to plug in at your church."
We met at my office. Phil's story was like many stories of those who'd sat in my office before. The conservative evangelical home in which he had been raised had nurtured within Phil a deep piety for Jesus, a love of Scripture, and a commitment to church. Back home, Phil had been an integral part of his youth group and the sound guy for "big church" on Sunday mornings. Now in Portland, he expressed a desire to make Christian friends, build community, and serve in the church. His passion was palpable and authentic. Naturally, I shared in his excitement—nodding along with every swell of youthful zeal. As our appointment drew to a close, we discussed ways he might connect, find community, and intentionally follow Christ in his new environment.
He found himself again in my office just one year later. This time, Phil confessed he no longer believed he was a Christian. "A lot has happened in the last year," Phil began. "I've . . . evolved." After our first meeting, Phil came to church a few times. But his attendance soon grew sparse.
He had found churchgoing challenging—if not altogether excruciating.
By his own admission, he wasn't good at intentionally making new friends. In fact, he'd never had to make new friends. Back home, Phil was known by everyone. Coming to a new church triggered endless waves of sadness, homesickness, and isolation.
At the same time, work was thriving. He'd gotten a promotion within two short months and seemed to be on the fast track to software success.
His co-workers soon became his best friends. One such coworker became Phil's new roommate. Enter Charles. Charles had grown up in a strong Mormon family. Existential questions during Charles's teenage years forged a chasm between his lived experience and the beliefs of his upbringing—to say nothing of the growing chasm in his relationship with his parents. In his freshman philosophy course, Charles found himself drawn to the quiet magnetism of his philosophy professor, whose lectures validated the questions within. Charles found resonance in those philosophical questions, never having dealt with the deep wounds of shame he felt placed on him for not embarking on a two-year mission after high school. After years of questioning, Charles left his Mormon faith and became an atheist.
Charles openly discussed his de-conversion story with Phil. Their nightly talks became the norm. Phil soon found himself cautiously resonating with Charles's critiques of religion. What stood out to him was Charles's extensive Bible knowledge. He knew Scripture, and he knew it well. And everything apparently wrong with it. Phil found himself drawn to the honest, liberating and authentic tone of his "freethinking" roommate.
Never had Phil found such thoughtful, honest, and penetrating questioners in his hometown. Devouring Charles's recommendations of books, podcasts, and YouTube videos, Phil immersed himself in a world of doubt and deconstruction he never knew existed. New questions emerged by the day: Why didn't his youth pastor talk about these "contradictions" in the Bible? Were they hiding these from him? And what to make of Charles's confidence?
This all converged alongside Phil's dwindling connection to church and family back home. Most of what connected him to that community was a steady stream of Facebook posts about how good God was, why Donald Trump was apparently God's anointed leader for a Christian nation, and how "blessed" they always seemed to be. Less and less seemed to connect Phil's past with his present. With few trusted voices to dialogue with, Phil took his questions to the internet. There he discovered a virtual cottage industry of like-minded people who gave voice to these existential questions. They also offered him new questions he'd never considered.
Life became one big podcast binge. At work, on the weekends, during his nightly jogs, Phil devoured everything he could get his hands on. Phil's existential crisis was being fed a steady diet of content—all at 2x speed.
The onslaught of questions and doubts became a cocktail Phil found intoxicating, painful and liberating all at the same time. Phil felt alive in his freedom to ask fresh questions. But these questions also brought shame. He felt like he was turning his back on his childhood faith. At our second meeting, Phil let it all out. He began with the Bible. What about all the "contradictions" that Charles brought up? What was he supposed to do with those? Phil expressed resentment that nobody back home had taught on the real Bible and how complex it really was. Then he turned to how the Bible had been used to hurt people. "I mean," he passionately confessed, "how can I believe in a book that was used to silence the slaves?" Not to mention how it had emotionally hurt so many people today. Phil talked angrily about one gay coworker who'd been deeply wounded by Christians. This led to a general rage over politics.
Watching his hometown family and friends gloat over Donald Trump's victory on Facebook created deep resentment. Even hatred. I was raised by these people! This just isn't right! I can't be a part of this! Eventually this led to a rant about how he saw evangelicalism as a campaign wing of the Republican Party. What does that have to do with Jesus? On top of all this, he'd started smoking weed to cope with the anxiety of his new job and his faith crisis.
Phil was in full doubt and deconstruction mode. And he was just scratching the surface—I could discern an aquifer of questions lying unseen. But he didn't continue. He stopped. And almost collapsed in defeat. Drawing in a deep breath, Phil dropped his shoulders and said, "Pastor, I want to believe. I want to pray. I want to know God. I want to be a Christian. I do. I just need answers. I have all of these questions—nobody to talk to. What am I supposed to do? You're the pastor. What do you say about all of this? I'm not a Christian anymore, right? Am I still a Christian? Can I still be a Christian?"
Tears cascaded down the contours of his youthful cheeks. Here he was, another young man in my office bearing his soul, his doubt, putting himself out there like never before. Sitting before me—bare, naked of spirit, showing every card—was a young man who seemed at the end of himself. Nothing in my pastoral training had prepared me to answer crises of faith like this. I just looked at him. No words. No answers. No quick fix. No platitudes. All I could give him was my full, undivided attention.
Welcome to the age of deconstruction.
Excerpted from After Doubt by A.J. Swoboda, ©2021. Used by permission of Baker Publishing BakerPublishingGroup.com.