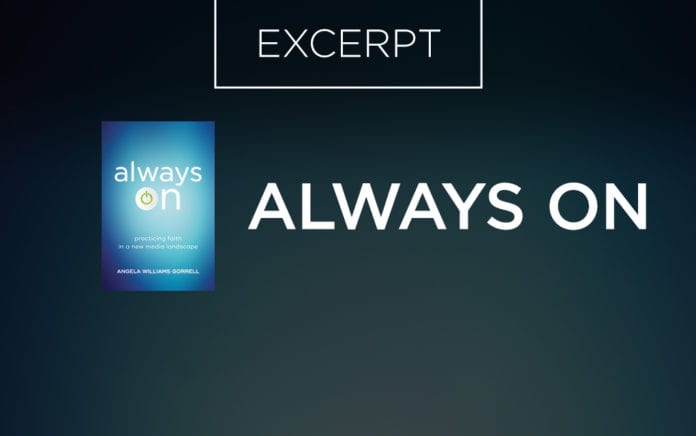 The story of Aaron Jackson, a high-school friend of mine supported through his cancer treatments, reminds me that God is present in social media interactions.
Excerpted From
Always On
By Angela Gorrell
This past year, a high school friend of mine, Aaron Jackson, was dying. Hundreds of people used social media to stay updated on his cancer treatment, hoping that he would be healed. Each week his Facebook page was flooded with encouragement. People reminded Aaron often that they loved him and were praying for him. He spent the last months of his life sharing his cancer journey with us: the joyful, the ugly and the mundane. In the midst of it all he continued to use the phrases, "God is in control," "Stay strong" and "Never give up." In November, he posted his last two Facebook status updates: one, an enthusiastic post dedicated to his favorite basketball team, and the other, a sobering post promising to watch over everyone and asking friends to let him know who to say "hey" to on the other side.
Like so many others, I will be forever grateful for Aaron's online vulnerability and positivity, and his insights into the experiences of those trying to survive cancer. For most of the last months of his life, Aaron was unable to leave his hospital room and could only have a few visitors because his medical team was trying to get him into remission. Social media was his connection to his friends and to the world.
Glorious Possibilities
God is online. God is active in every place and at every point of our lives. God's investment in creation extends to the various developments of human culture, including internet spaces like social media sites. The Holy Spirit can be our companion in online spaces, as in all other aspects of life—teaching us; reminding us; empowering us; encouraging us; revealing truth to us; bringing us grace, joy, hope and peace; praying on our behalf; telling us what to say; setting us free; making us holy; and, thus, inviting human beings to be receptive to and share in God's loving, reconciling ministry in our hearts and in the world (Luke 2:26; 10:21; 12:12; John 14:26; Acts 1:8; 9:31; 13:9; Rom. 8; 14:17; 15:13; 2 Cor. 5:14–21; 1 Pet. 1:2). God is with us during our engagement with new media just as God is with us when we engage in physical spaces and activities and use other tools. Given God's dynamic participation in people's lives and the entire world, new media has glorious possibilities. In other words, incredible, meaningful things can happen as people use new media—because of God's guidance, love and active presence in our new media landscape.
Reflecting on Aaron's story, I can see that he demonstrated God's love, strength and hope toward his family, girlfriend, coworkers, and friends online, and an extraordinary number of people mirrored that love, strength and hope back to him through social media. Each week I witnessed people online rejoicing with Aaron when he rejoiced. When he posted about being able to spend time with people he loved in person, when he shared videos and photos of himself walking the halls of the treatment center (his will to survive and remain hopeful never wavered), and when the treatment he received was working and helping him feel more like himself, people wrote joyful, compassionate replies.
I also observed people mourning when Aaron mourned. They expressed sadness when he displayed a photo of the effects of chemotherapy on his mouth and explained that he was unable to eat even though he was starving; they communicated grief when he shared his sadness about missing events that were important to him; and they conveyed pain when he posted that doctors were struggling to find other remedies for curing him.
When Aaron posted his last status updates, the rejoicing and mourning were intermingled, as often joy and sorrow are. People wrote things like, "You have brought laughter and humor to such a heartbreaking time. You have had every right to complain and instead, you chose love." And, "With tear-filled eyes all I can do is look at the sun rising over the clouds and imagine the beauty you are entering. Well done my friend, what a wonderful life you have led here. You are so loved." And, "Your strength, faith in God, and determination have changed so many lives."
Social media was used to keep people updated about Aaron's treatment plans, support him with practical resources, shower him with love and invite people to pray for his healing. For example, a sock campaign was started in his honor. He loved to wear crazy, colorful, decorative knee-high socks. Everyone who knew him, knew he loved wild socks, a beautiful idiosyncrasy that people used to share his story and let him know that he was seen and heard. His family, friends and coworkers wore crazy socks and posted photos on social media of them wearing the socks with special hashtags dedicated to him and with loving words of support. One friend made an image in his honor of a cancer awareness ribbon in blue and white (the colors of his favorite Kentucky basketball team: University of Kentucky), and many of his Facebook friends replaced their profile picture with it.
People held events on his behalf—a softball tournament and social events at a local restaurant—to raise money for whatever he needed, and they posted about the events on social media to acquire additional funds. Then, three months before he passed away, friends used technology (in fewer than 48 hours) to gather a large group of over one hundred people outside the cancer center where Aaron was being treated. He had been at the center for 92 days and was about to be moved from Kentucky to a new cancer center in Texas.
The purpose of gathering people was twofold: (1) to encourage him to stay strong by bringing him to the balcony of the cancer center to look down on the crowd and see how loved he was and (2) to raise more money for the new type of treatment he was about to receive. To raise the money, someone filmed the gathering and posted it on Facebook so people could find the website to donate money for the treatment that everyone was hoping would save his life. In the video, you can see the crowd cheering and holding up handmade signs with loving words like "Stay Strong," "You are our Superhero" and "We love you."
Tell me more about this book »
Order this book from Amazon.com »
Excerpted from Always On by Angela Gorrell, ©2019. Used by permission of Baker Publishing BakerPublishingGroup.com.