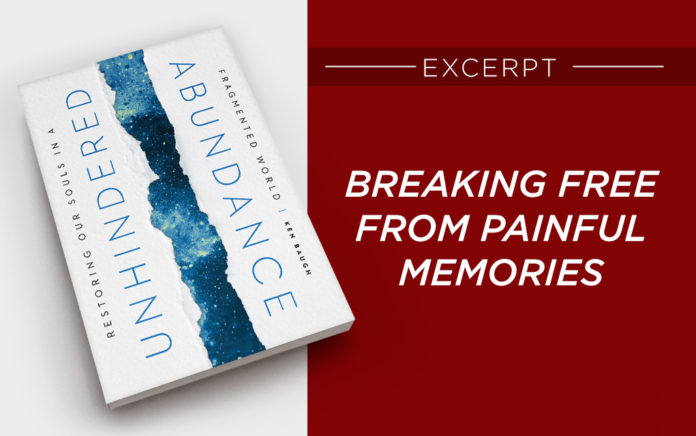 Becoming free to move forward into the future
Excerpted From
Unhindered Abundance
By Ken Baugh
There is an old saying that "time heals all wounds." The idea is that healing for damaged emotions as a result of traumatic or distressing events happens automatically with the passing of time. The truth, however, is that time alone heals nothing. No matter how much time goes by, unresolved emotional pain will not heal by itself; it must be identified (named) and processed (shared with others) accordingly. We will talk about how to heal unresolved emotional pain in a later chapter, but in this chapter I want to show that according to Scripture we must go back and resolve the pain from our past in order to move forward into the future.
To do this, we must first understand how memory works.
During the many years I've been a pastor, I've had people challenge the need to resolve past issues through counseling. To support their point, "no counseling" advocates often refer to Paul's words in Philippians 3:13–14: "One thing I do: forgetting what lies behind and straining forward to what lies ahead, I press on toward the goal for the prize of the upward call of God in Christ Jesus." At first glance, it may look like the "no counseling" advocates have a point: Paul seems to commend "forgetting what lies behind." In order to understand what Paul really means, we must look at the context.
Paul's entire discussion in Philippians 3 is a comparison of his former, self-directed righteousness according to the law with true righteousness that comes from God by faith in Jesus Christ.
"If anyone else thinks he has reason for confidence in the flesh, I have more: circumcised on the eighth day, of the people of Israel, of the tribe of Benjamin, a Hebrew of Hebrews; as to the law, a Pharisee; as to zeal, a persecutor of the church; as to righteousness under the law, blameless." —Philippians 3:4–6
Paul was a Pharisee who had worked rigorously to uphold the righteous requirements of the law. In fact, he was very proud of the fact that he was blameless (without any fault) in carrying out the letter of the law. The mosaic law said, "You shall not murder" (Exodus 20:13). Paul never murdered anyone. The mosaic law said, "You shall not commit adultery" (Exodus 20:14). Paul never committed adultery. The mosaic law said, "You shall not bear false witness against your neighbor" (Exodus 20:16). Paul never did that either. According to carrying out the letter of the law, Paul was blameless. These acts of legalistic righteousness had been Paul's trophies, evidence that he was a good Jew, in right standing with God. In other words, before Paul met Jesus, he believed that his relationship with God was secure based on his good works.
And yet, after his conversion on the road to Damascus (Acts 9:1–19), Paul realized that all his good works accounted for nothing. In fact, he refers to his legalistic righteousness as "rubbish" (Phil. 3:8). The English word rubbish does not convey the graphic comparison Paul was making. The Greek word translated as "rubbish" here, skybala, is used in reference to various kinds of filth, including human excrement. Paul is being intentionally graphic, maybe even offensive in his choice of words, but he is making the point that human effort can never produce right standing before God; righteousness can only be received as a gift from God through faith in Jesus Christ (Phil. 3:9–10). By "forgetting what lies behind," therefore, Paul is not advocating that believers should just move on from the pain of their past; he is arguing that theologically, his previous focus on religious achievement is irrelevant to his right standing with God.
Paul does not argue for us to forget past events. As you read Scripture, especially the Old Testament, you will discover that God wants his people to remember their history.
Adapted from Unhindered Abundance: Restoring Our Souls in a Fragmented World by Ken Baugh. Copyright ©2021. Used by permission of NavPress. All rights reserved. Represented by Tyndale House Publishers, a Division of Tyndale House Ministries.