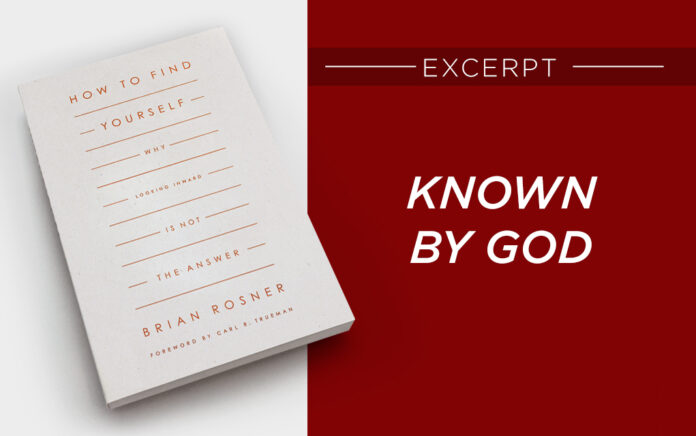 If Adam and Eve forfeited the blessing of being known intimately and personally by God, faith in God is what restores that knowledge.
Excerpted From
How to Find Yourself
By Brian Rosner
Known by God 
Does God know you and me personally? And if so, how does that affect my identity? 
The Bible affirms the critical role of being known both by other human beings and by God for personal identity. In the storyline of the Bible, this capacity for harmonious relationships, both with other human beings and with God, is interrupted by human disobedience. 
If Adam and Eve forfeited the blessing of being known intimately and personally by God, faith in God is what restores that knowledge. 
Significantly, the main characters in the Old Testament are explicitly said to be known by God, including Abraham, Moses, David, and the prophet Jeremiah. 
Abraham: "For I have known him . . ." (Gen. 18:19, my translation). 
Moses: "I know you by name" (Ex. 33:12).
David: "You know your servant, O Lord God!" (2 Sam. 7:20). 
Jeremiah: "Before I formed you in the womb I knew you" (Jer. 1:5). 
We must be careful here not to confuse two sorts of knowledge— namely, factual knowledge, the idea that God knows all about us, and relational knowledge, the notion that God knows someone personally. Some languages mark these two types of knowledge with different words. German, for example, uses wissen and kennen to refer to knowing something and knowing someone, respectively. The Hebrew, Greek, and English languages use the same verbs "to know" for both. 
To say that God knows someone does not simply mean that God knows about them. "If, to use the language of 2 Corinthians 5:11, God's omniscience means that 'what we are is known to God,' God's relational knowledge means that 'who we are is known to God.' . . . If God's omniscience is an attribute of God that speaks of his transcendence and overlaps with his omnipresence, his knowing us concerns his immanence and is related to his love."
Note too that being known by God is directly connected to the question of personal identity. At one critical point in the biblical narrative, King David offers to build God a house, in the sense of a temple. Fond of a good pun, God responds in the negative and tells David that he will build him a house, in the sense of a dynasty. David replies: "Who am I, O Lord God, and what is my house, that you have brought me thus far?" (2 Sam 7:18; 1 Chron. 17:16). Two verses later, David answers the question himself: "What more can David say to you? For you know your servant, O Lord God!" (2 Sam 7:20; see also 1 Chron 17:18). If David wonders who he is, the answer is that he is known by God. 
And in both the Old and New Testaments, this is true of all believers. All of God's people are known by God. 
Israel: "You only have I known / of all the families of the earth" (Amos 3:2). 
The church: "Now that you have come to know God, or rather to be known by God" (Gal. 4:9) 
But what is the nature of this intimate knowing? Believers in Christ are known by God in the same way that a father knows his child. This can be seen most clearly in Galatians 4, where Paul asserts that believers are "known by God." The prior verses (Gal. 3:26–4:7) expound the doctrine of God's adoption of believers in Christ. In the NIV, the section is accurately entitled, "Children of God," for these verses are indeed the longest exposition of adoption in the Bible. ("Son" in Galatians 3–4 is generic, inclusive of both men and women—Paul uses the language of sonship since it was sons who were the heirs in the ancient world.) On no less than four occasions, Paul tells the Galatian Christians that they are sons of God (3:26; 4:6; 4:7, twice in this last verse): 
In Christ Jesus you are all sons of God, through faith. . . . But when the fullness of time had come, God sent forth his Son, born of woman, born under the law, to redeem those who were under the law, so that we might receive adoption as sons. And because you are sons, God has sent the Spirit of his Son into our hearts, crying, "Abba! Father!" So you are no longer a slave, but a son, and if a son, then an heir through God. (Gal 3:26; 4:4–7) 
When Paul describes the Galatian Christians in 4:8–9 as those who are known by God, he has not left the theme of adoption behind. Paul's preference for being known by God over knowing God in Galatians 4:8–9 as a description of them is thus understandable: it fits better with their identity as children of God, which he has just spent so much time expounding. Therefore, a fuller answer to the believer's question, Who am I?, is that a believer is known by God as his child. 
Names and Stories 
In recent times, when acts of terrorism are perpetrated, the media typically does two things to remember and honor the victims: list their names and tell their life stories in brief. Both are essential ways to communicate their identities. The most basic thing about a person's identity is his or her name, and what defines people are their stories. Being known intimately and personally by God includes both these dimensions of our identities. 
God knows his children by name. When Jesus compares himself to a shepherd in John's Gospel, he makes the point that "he calls his own sheep by name" (John 10:3). Not only does God know his people by name; he sometimes changes their names as a sign of his thorough involvement in their lives and an indication of his plans for them. Examples include God changing Abram's name to Abraham, Sarai's to Sarah, Jacob's to Israel, and, in the New Testament, Simon's to Cephas. 
The theme of naming as knowing is also often reinforced in the Bible's narratives, where often the characters who are named are the faithful to whom God is unwaveringly committed. In Exodus 1, the pharaoh is not named—he is just "the king of Egypt." But Shiphrah and Puah, the lowly Hebrew midwives, are named (Ex. 1:15). Similarly, in Ruth 4, Boaz is named, but the guardian-redeemer who refuses to buy the land from Naomi for fear of endangering his own estate is not. Tim Keller points to something comparable in the New Testament, in the parable of the rich man and Lazarus in Luke 16: "The rich man, unlike Lazarus, is never given a personal name. He is only called 'a Rich Man,' strongly hinting that since he had built his identity on his wealth rather than on God, once he lost his wealth he lost any sense of self."
If your life is characterized by faith in and obedience to the Lord, like Shiphrah, Puah, Boaz, and Lazarus, then God knows you by name, and your identity is secure in him. Your name is written in the Lamb's book of life, a book written "from the foundation of the world" (Rev. 17:8). So important are our names to God that he records them in what the Bible describes as "the book of life" (see Ps. 69:28; Rev. 13:8; 20:15; cf. Luke 10:20). 
But there is also a book in God's metaphorical library that confirms that he knows the stories of our lives, not just in brief but in every detail. In Malachi 3:16, God is said to keep "a book of remembrance," an ongoing account of the words and deeds of each and every one of God's people. God knows and takes note of the lives of his children, not to condemn us, but to reassure us that he knows us intimately and personally. God's people are those to whom he is attentive—"a book of remembrance was written before him of those who feared the Lord and esteemed his name" (3:16). He treats us as his "treasured possession," and "will spare them as a man spares his son who serves him" (3:17). His loving attention applies to both the ups and downs of our lives. In Psalm 56:8, the psalmist asks God to "put my tears in your bottle. / Are they not in your book?" 
Whereas the knowledge of God might sometimes seem ethereal and removed from our daily lives, the fact that we are known by God, even in our darkest days, is a great comfort. God knows us when our struggles with our own identity feel hidden from everyone else.
Excerpted from How to Find Yourself by Brian Rosner, ©2022. Used by permission of Crossway, a publishing ministry of Good News Publishers.