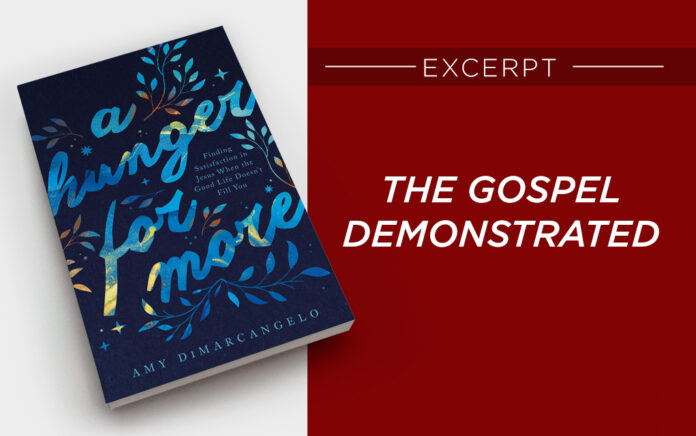 God cares about human suffering.
Excerpted From
A Hunger for More
By Amy DiMarcangelo
The Gospel Demonstrated 
As God's beloved children, we are called to be imitators of him. It is vital to faithful mission. After all, if we preach what is true about God without representing what is true about God, why would anyone listen to us? 
God cares about human suffering. He carefully knits every human being into existence and treasures every unborn child (Ps. 139:13–14). He is a father to the fatherless and a protector of widows (Ps. 68:5). He watches over the sojourner—to use modern terms, the immigrant, migrant, asylum seeker, and refugee (Ps. 146:9). He hears the cry of the poor (Ps. 102:17), and his fury rises at their abuse (Prov. 17:5). His compassion stretches to those who face hunger and persecution and to those degraded because of their disability or ethnicity (Ps. 146:7–8). 
And we are called to share his heart. 
In the Old Testament, the Israelites were commanded to live differently from the surrounding culture, to reflect the nature of God and the ethics of his kingdom. They were specifically instructed to care for the poor, the fatherless, the widow, and the sojourner—to protect them from injustice, to share their harvest and allot a portion of tithe for their provision, and to include them in feasts and celebrations as members of the community. 
Though the modern church isn't called to specific Israelite practices like gleaning or celebrating the year of jubilee, it's important to understand that the moral responsibility to demonstrate mercy and justice was not uniquely assigned to the Israelites. 
God described Job as "a blameless and upright man, who fears God and turns away from evil" (Job 1:8), and a primary aspect of Job's righteousness was how he cared for the needy. When Job's friends claimed that his suffering was the result of sin, Job defended himself in this way: 
If I have withheld anything that the poor desired, or have caused the eyes of the widow to fail, or have eaten my morsel alone, and the fatherless has not eaten of it (for from my youth the fatherless grew up with me as with a father, and from my mother's womb I guided the widow), if I have seen anyone perish for lack of clothing, or the needy without covering, if his body has not blessed me, and if he was not warmed with the fleece of my sheep, if I have raised my hand against the father- less, because I saw my help in the gate, then let my shoulder blade fall from my shoulder, and let my arm be broken from its socket. (Job 31:16–22) 
Job was so appalled at the thought of neglecting the vulnerable that he dramatically invited physical mutilation if he was found guilty of doing so. As a righteous man, passivity wasn't an option. 
Rather than following Job's example, we are tempted to do the reverse and justify ourselves for our lack of mercy and justice. Even though we label such practices as good, we consider them in the realm of extracurricular Christian activity. 
But in the same way we shouldn't view sexual purity or honesty as optional to Christian obedience, we shouldn't consider these good works optional either. Such actions are essential fruits of righteousness for those who follow God: "He has told you, O man, what is good; and what does the Lord require of you but to do justice, and to love kindness, and to walk humbly with your God?" (Mic. 6:8). 
Mercy and justice aren't just tenets to believe; they are deeds to do. Pay attention to the actions italicized in the following two passages: 
Give justice to the weak and the fatherless;
maintain the right of the afflicted and the destitute. 
Rescue the weak and the needy;
deliver them from the hand of the wicked. (Ps. 82:3–4) 
Learn to do good; seek justice, 
correct oppression;
bring justice to the fatherless, 
plead the widow's cause. (Isa. 1:17) 
Scripture simply hasn't given us the option to sit on the sidelines. When we discern oppression, it's so that we can pursue justice. When we discern the needs of the vulnerable, it's so that we can respond in some way. If our action—or inaction—robs people of mercy and justice, we are dishonoring God and devaluing his image bearers. 
In the New Testament, Jesus also emphasizes this crucial aspect of faith. In a sobering account of the final judgment, he depicts how acts of mercy such as feeding the hungry, welcoming the stranger, and clothing the naked will distinguish between those who are his people and those who aren't (Matt. 25:31–46). This distinction doesn't mean that our works earn our place in the kingdom. Rather, they show that the King already reigns over our hearts. 
When the gospel transforms us, it changes how we treat others. God cares—intensely—for those who suffer. If we are born of him, we will too. 
Jesus did more than provide us with instructions and warnings. He demonstrated consistent compassion toward the needy. He showed tenderness to women, children, and the disabled—those marginalized by society and deemed "less than." He healed the sick, cast out demons, touched the unclean, and fed the hungry. These miracles were unquestionably intended to point to his divinity, but they were also meant to point to his heart. Jesus doesn't just have power to multiply bread and fish; he has compassion for the hungry. He doesn't just have power to heal; he has compassion for the hurting. 
To be truly gospel centered, we must be gospel transformed. We must preach the good news and be devoted to good works for the glory of his name. This devotion to good works starts within the body of Christ and extends outward. In our zeal for the mission, we must remember: love expressed in the church is essential to our witness. Paul emphasized this priority: "So then, as we have opportunity, let us do good to everyone, and especially to those who are of the household of faith" (Gal. 6:10). As we seek to care for people in our communities and around the world, may we never neglect the needs within our own churches. 
God has established the church as the light of the world, and we must let our light shine before others so that they may see our good works and give glory to our Father in heaven (Matt. 5:14–16). Through our deeds, we are called to demonstrate the generous, humble, and impartial love of God in the gospel. 
Excerpted from A Hunger for More by Amy DiMarcangelo, ©2022. Used by permission of Crossway, a publishing ministry of Good News Publishers.