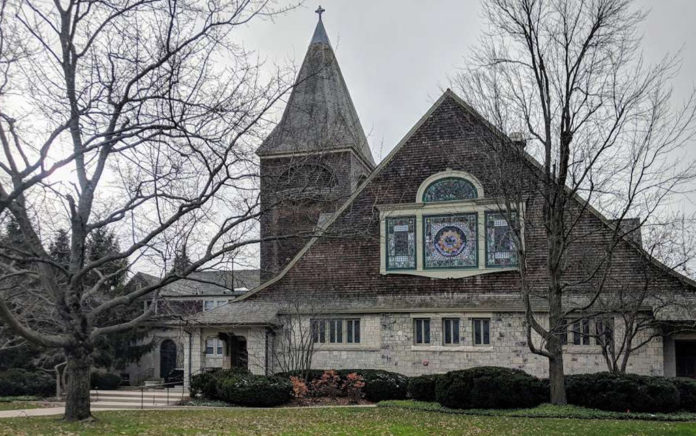 Is it possible to respect a building's past while refreshing its design?
Are traditional, aging church buildings obsolete? Originally designed to fit a different generation of worshipers than today, can they be revitalized to become relevant in today's world? These are hard questions with difficult answers. Regardless of how powerful your spiritual mission is, many younger people seem to be asking themselves, "Do I want to worship in this uninviting building?" In contrast, beautiful, welcoming church facilities can attract visitors, and can serve as catalysts for spreading the Word.
It is possible to integrate new building design features that reflect what younger generations want, while respecting the traditionalism that senior generations like. First and foremost, it is necessary to take a holistic approach to any building changes in historic facilities, because there can be formidable design limitations as well as golden opportunities for change, if studied well.
First Presbyterian Church of Lake Forest, in Illinois, is a good case study in point. Although it is an active church with a dedicated congregation, the church membership was declining. The church had to take a hard look at what worked and what was lacking in their historic building. After renovating their facility, they are now attracting congregants of all ages to enjoy their fellowship space.
To figure out what needed to change, a master plan was created. That master plan became the vision and driver of subsequent incremental renovations. First, an inventory was made of the positive features of First Presbyterian Church's facility. The sanctuary was rightly the most liked space by the church's members, as it is the heartbeat of the organization. It was a beautiful, uplifting space that featured rich colors, Tiffany glass windows, and much woodwork.
On the negative side of this inventory were subsequent later additions to the original 1886 building, completed mostly between the 1950s and the 1970s. While these building modifications addressed immediate needs for schooling, fellowship, and administration at the time, the additions weren't designed with the whole building in-mind or in consideration of how the spaces linked together. The additions created labyrinths of hallways and an underground, gymnasium-like fellowship space that was remote from the worship spaces.
The negatives formed the crux of the church's problem—the building, other than the sanctuary, was confusing to navigate, dark, uninviting and not conducive to congregating. In other words, new visitors were disoriented in the facility, and it was almost intimidating to find their way to fellowship on Sunday mornings.
Through a study of the church's existing floor plans and historic building documentation, a chronology of the building's construction was pieced together to understand more fully the building structure. This information allowed the design team to identify what could be modified, and what were impediments to the project's success.
By studying the plans, two essential things informed the new design. First, a 1970s renovation inserted choir and storage rooms adjacent to the sanctuary, and the size of all of these spaces in their aggregate were appropriately sized for the church's fellowship. If the existing low-use functions of choir and storage were relocated to other locations in the church, then the high-use fellowship spaces could be placed adjacent to the sanctuary. Fellowship could then have the correct proximity to the sanctuary, and spaces could be visually opened to reduce the labyrinth of corridors.
Once the direction was set to open-up the existing spaces, then the task was to make the new spaces attractive to visitors and conducive to members congregating. It was important to bring the historic "feel" of the sanctuary into the new fellowship space, so it was comfortable for members to flow between these spaces as they concluded their church services. The jewel tone colors of the sanctuary and warm woods were incorporated into the new fellowship interior design, although lightened to brighten the newly renovated spaces. Iconography from the sanctuary was also incorporated into the carpet patterns and millwork.
When selecting furniture types and layouts, flexibility of use was essential. Weekday informal gatherings, Sunday after-worship fellowship hour, youth group functions, wedding and funeral groups, group dining, and large and small lecture formats would all be necessary. It was important that the newly renovated spaces not have a sterile, institutional feel. Rather, the goal was to strive for a living room-like comfort, so members felt that their church was their home away from home. However, furniture selections still had to be commercial grade, durable, stain-proof, easy to clean, and fire-rated.
To increase comfort for church members, the heating and cooling systems were upgraded to accommodate the extra population of fellowship. Bodies produce heat, and the more people who inhabit a room, the stuffier it can become unless this is addressed.
Acoustics were a prime consideration. Spaces that are too noisy are not conducive to intimate conversation. Fabric wrapped acoustic panels lined the ceiling coffers, and upholstered furnishings and carpet were taken into consideration during the acoustic studies. Ceiling speakers and sound systems were selected specifically for the acoustics of the spaces, and integrated into the ceilings.
Natural daylight and quality artificial lighting were introduced so that the spaces appeared more vibrant and welcoming. Several types and "layers" of lighting were employed, such as recessed cans, chandeliers, and wall sconces, to address the variety of uses of the spaces.
Support spaces are commonly overlooked, but are an important part of churchgoers' experiences. Ease of everyday building use is critical to a functioning facility. Therefore, a choir robe storage room was converted to a new, accessible serving kitchen for the fellowship spaces. The coat storage space that was once tight and especially difficult for the elderly to maneuver in was reorganized to become more open and accessible. With some simple space reorganization, the coatroom became another comfortable greeting and gathering space, with refurbished couches and a central drop-off table to provide convenience when putting on outside attire. Table and chair storage is located adjacent to the fellowship space, so church staff can easily access furnishings as they are assembled and taken down after use.
In your aging church facility, how can you provide flexible spaces that are adaptable for a variety of church populations? New renovations are most successful when they are respectful of the historic architecture and beauty of the original church buildings, while embracing them for modern-day uses. A thoughtful and intelligent building analysis and design by an architect familiar with historic buildings can be a valuable tool for you to understand the needed steps to make your facilities more welcoming and functional.
Give thanks and praise to your church building's past, and invest in its sustainability for the future.
Architect: Melichar Architects
Interior Designer: Tina Dann-Fenwick Interiors
Photographers: Michael Alan Kaskel and Jessie Ayala
Contractor: Altounian Construction