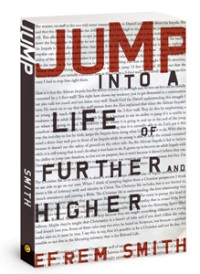 Efrem Smith: Excerpt: Chapter 6, "Engage"
Engage
I do not ask You to take them out of the world, but to keep them from the evil one.
John 17:15

The beloved church is one that understands that it must engage culture for kingdom purposes. Coming to terms on how to live as God's beloved in the culture around us is crucial. The culture here is being defined as the emerging, developing world. It's what's around us—both good and bad, divine and demonic, wonderful and dangerous. Within all of that are values, language, fashion, art and a bunch of subcultures. All of this can be very complex, but also a tremendous opportunity for the church to offer God's love to the world. In a general sense, the church has taken two approaches in its relationship with culture. One is to see culture as the enemy and the other is to embrace the culture.
In seeing the culture as the enemy, we take a position of being primarily at war. I firmly believe this hinders the church's ability to be a force of love within culture. Over the years, I've witnessed a couple of ways in which seeing the culture as the enemy plays out. One is by defining the culture as the world of those living in the old life, the life of sin. The culture is then the dwelling place for sinners. At the core of this position is "Before I became a Christian, I was in the world, but now that I'm a believer, I'm in the world no longer." As a teenager, when I would hear Christians say, "I'm no longer in the world," I wanted to blurt out, "Well, what planet do you live on now?" It stands, then, that the church is a place of refuge from the culture, a safe, Spirit-filled escape from the world.
When I was growing up, I had many friends in churches that took this position on culture. My friends attended churches that had developed a list of all the places you shouldn't go and all the things you shouldn't do in order to not be involved in the things of this world. In place of spending time in the world, they spent a lot of time in the church. The strategy of these types of churches was to keep you in the church building and participating in church activities as much as possible so that you wouldn't be corrupted by the world. Many times I felt guilty about some of the places I was going and things I was participating in when I was around them. At the same time, I really wasn't interested in being in a church building every day of the week. I still feel this way today. However, I agree that there are places and activities that Christians should think critically about, no question.
Now I believe in the necessity of the new birth, so some of what my friends were proclaiming made sense to me. When we jump into the love of God and are transformed through Jesus Christ and the indwelling of the Holy Spirit, we ought to look carefully and our lives. The key is that we do this based on a healthy interpretation of the Scriptures. With this in mind, it made sense to me in making the jump into the beloved life to understand clearly the bible's stance on issues such as drunkenness, lying, selfishness, and sex outside of marriage. But I struggled with my friends who saw going to school dances, listening to all forms of secular music and playing cards as sinful. This is a legalism based on issues the Bible doesn't speak clearly on.
uu
I remember being influenced at times by these Christian friends of mine. On one occasion, I threw away all of my secular music. This included rhythm and blues such as Stevie Wonder and Earth, Wind & Fire, as well as hip-hop artists like Run-DMC and Grandmaster Flash and the Furious Five. I regret doing that to this day. I could have at least taken them to the used-record store and gotten some money back for them, but I just threw them in the trash because I was trying to not live in the world any longer. I really didn't feel any love by being around these types of Christians, but I did feel a lot of guilt. I went through a back-and-forth existence at this point in my Christian life based on the types of Christians I was hanging out with.
During this time in my Christian life, my only reason for hanging out with non-Christians was for the purpose of leading them to Christ. Evangelism is a biblical mandate, but so is being an extension of God's love. In the Bible, we read about Jesus healing the sick, casting demons out of people, and advocating for a woman who was about to receive the death penalty. What we don't know in every case is whether that person followed the teachings of Jesus and advanced the kingdom from that point forward. In some cases, such as the Samaritan woman Jesus met at the well, we do see a more holistic transformation that takes place. She goes away from this experience to expand the kingdom among her people (John 4). The common denominator in all of these encounters with Jesus is that they experienced the compassion and love of God. Christians who see culture as the enemy lose out on these opportunities to love as God loves.
When I hung out exclusively with Christians, we became almost a sort of Christian gang. We didn't wear the same colors or commit criminal activity, but we definitely had an attitude. To many, we seemed arrogant and judgmental. We saw unchurched non-Christians merely as a part of an evangelism model, which was rehearsed and not relational or loving. This model operated on the basis of guilt; if you didn't accept our proposition in the end, you felt guilty. Our proposition was not just about receiving Jesus Christ as Lord and Savior, but also about removing oneself from the ways of the world with a mix of issues, some clearly defined by the Bible and others that were not.
Now the irony of this was that many of my Christian friends who took this position toward the culture struggled just as much if not more than the people out there in the culture. Being in church all the time and not listening to secular music didn't automatically lead them to living any better than those who had yet to make a decision to follow Jesus. This is because living the Christian life is about a love relationship, not a law mandate. It takes a love identity in Christ in order to live as God desires us to. This is what living in the beloved self is about. There are many Christians who have the wrong perspective on culture because they have the wrong perspective on who God is and who they are in God. If we see God as One who loves us only based on what we do or where we go (more like what we don't do and where we don't go), then we easily look down on the culture around us and those living in it.
This staying out of the world to earn God's love and favor is a hard life to live, not to mention unbiblical. God loved us when we were in the world, and He loves us now, no more and no less. God loves us so much that through Jesus Christ we can receive life transformation and the opportunity to live in intimacy as God's beloved on a daily basis. Those living in the law have a hard time relating to the culture God's way because they have the wrong perspective on themselves. This spiritual identity disorder causes them to withhold God's love from others. I can remember a lot of my friends who lived this way, not the best people to hang around. They just weren't very loving. Imaging that—Christians not being loving. If you're not loving, how can you be living as God's beloved? To be the beloved is to be loved and loving at the same time. God's love within us cannot be contained. I had friends who had God's law in them, but not God's love. This was not entirely their fault; they were only teenagers. It was mainly because law-filled pastors and other adults in the church were beating this into them. They were not free. In some cases, they were just as bound as those who didn't know Jesus as Savior. If you are law-filled instead of love-filled, you are not experiencing the freedom of the beloved life.
This all became very hard for me because I began to separate myself from many of my "old" friends, friends I had before I became a Christian. I stopped hanging out with people who didn't go to church or listened to secular music. Now, I understand that if you became a Christian and you previously hung out with a very bad crowd, separation could be a very wise choice for your Christian growth. That's not what I'm talking about. What I am talking about is someone who jumps into the love of God but refuses to jump into being empowered by God to love those who have yet to jump into God's love themselves. By making culture the enemy, we make those who are in the culture enemies. Unfortunately, I have been one of these law-filled Christians at times in my life. I talked to non-Christians as if I was better than them. I looked down upon them and judged them, not realizing how non-Christian I was behaving. Even today, I sometimes go to concerts or pass by events and see Christians protesting. In many cases, they are right on the issues but wrong in the heart. The question becomes: Are God's children primarily to be an extension of His judgment or His love? I believe emphatically that it is the latter.
uu
This leads me to the second way of seeing culture as the enemy. In this position, God is primarily, if not exclusively, in the church, and Satan is primarily, if not exclusively, in the culture or the world. This war with the culture has less of a focus on love and more of one on winning the battle. We are at war with the culture, but we can take pride that we are on the winning side. This pride is what fuels the arrogance of some within the body of Christ. When we set out to witness to others, we come with anger and pride instead of humility and love. I've been to Christian concerts and conventions on many occasions where artists and speakers seem to be yelling and scolding those in the audience who are listening. I'm so grieved by the lack of love coming from the platform.
Some Christians have an approach to evangelism that basically takes people to the whipping post. It seems in the Gospels that when Jesus became angry or took people to task, His primary focus was on the religious leaders who had corrupted God's message. Jesus had confrontations with self-serving and arrogant religious leaders who in some cases seemed to put themselves in the place of God. But when Jesus was among the lost and those whom the religious leaders looked down on, He expressed compassion and love. Could it be that as we look at those in the culture, we don't see them with the eyes of God?
Could it be that we see those in culture this way because we have a warped view of who we really are in Christ? I believe if we saw ourselves as the beloved, we would see the culture around us differently. Maybe looking at the culture and those in it primarily as the enemy is connected to a warped view of how God looks at us. Going a little deeper, how do you think God looked upon you before you became a Christian? Seriously? If God looked upon us with tremendous love before we were Christians, how should we now as believers look at God's creation and those within it? Notice, I just exchanged the word culture with God's creation. God is the Creator of the heavens and the earth. Yes, through sin God's creation has been corrupted. And yes, there is an Evil One who seeks to rule over what was created by God. But in the meantime, we are called as God's beloved children to advance the beloved world, to be a part of His kingdom coming and His will being done. Our war is primarily against an enemy in the spiritual realm, not the culture.
For our struggle is not against flesh and blood, but against the rulers, against the powers, against the world forces of this darkness, against the spiritual forces of wickedness in the heavenly places.
Ephesians 6:12

The problem with seeing culture primarily as the enemy is that the focus of our war against the culture gets focused too easily on the people within it. When this happens, we make those outside of the church and the Christian life the enemy. Jesus is very clear on what to do when people become our enemies; we are to love them (Matthew 5:43-45).
uu
To see culture as the enemy is not the right approach, but neither is a full embracing of the culture. Some parts of the church have embraced the culture around them to the point that they have lost touch with enduring values, which are essential to advancing the beloved world. We must be careful about an embracing of the culture that causes us to question or totally move away from the authority and centrality of Scripture. The biblical approach to culture is not about painting it as the enemy or fully embracing it. The biblical approach is to engage culture for kingdom purposes. This is what leads to advancing the beloved world. In the gospel of John, Jesus speaks to the Father about how His followers ought to live in the world, the culture around them.
But now I come to You; and these things I speak in the world so that they may have My joy made full in themselves. I have given them Your word; and the world has hated them because they are not of the world, even as I am not of the world. I do not ask You to take them out of the world, but to keep them from the evil one. They are not of the world, even as I am not of the world. Sanctify them in the truth; Your word is truth. As You sent Me into the world, I also have sent them into the world.
John 17:13-18

We are in the culture, and we may even face opposition, but Jesus asks the Father that He keep us from the Evil One. Jesus also says that we are not of this world. We are in the culture but not of it because our identity is in Christ and we are citizens of the kingdom of God. As we read on in the chapter, He calls us as His followers into oneness.
I do not ask on behalf of these alone, but for those also who believe in Me through their word; that they may all be one; even as You, Father, are in Me and I in You, that they also may be in us, so that the world may believe that You sent Me.
John 17:20-21

Jesus was thinking not only of those following then, but also of those who would come to know Him as Savior after He was no longer physically with them. Could He also have been mindful of those who would come to know Him generations later because of this? Through the testimony of their word passed down generation after generation, Jesus lifts up a desire to the Father that we would be one as He and the Father are one. In the cultural reality of ethnic and racial diversity, the body of Christ seeing oneness across ethnicity and race is essential. Experiencing unity and love as empowered by God is a critical part of the beloved church.
The glory which You have given Me, I have given to them, that they may be one, just as We are one; I in them and You in Me, that they may be perfected in unity, so that the world may know that You sent Me, and loved them, even as You have loved Me.
John 17:22-23

The beloved church shouldn't be divided by race, ethnicity or class because it affects our ability to engage the culture around us for kingdom purposes. Scripture gives us many examples of engaging culture for kingdom advancement. In John 17, we see that we are to be in the culture (world) and extend God's love within it as a unified body carrying God's glory.
uu
As we think about the culture we are in, it's good to begin by considering the cultural influences around us; multiethnicity, technology, youth, hip-hop and urbanization are just a few. There are even subcultures within cultures. You have to consider where God has placed you, the gifts God has placed in you, and the call God has for you. For me, in an urban context, this has led me to a passion and call to engage the urban subculture known as hip-hop.
Hip-hop culture is seen by some as only rap music. But it is much more than that. It is a cultural movement and global influence. The culture of hip-hop contains language, fashion, values and a broader art form, including dance and graffiti. Hip-hop is influencing youth and young adults not only in U.S. cities, suburbs and rural areas, but also in places such as South Africa, Japan, England and Russia.
Hip-hop culture was born in the Bronx area of New York as an alternative artistic and social expression of urban youth. The original elements are the deejay, the rapper, the B-boy or B-girl (also know as the dance form breaking), graffiti art, a knowledge of self, and a knowledge of God. Yes, that's right, one of the original elements of hip-hop culture is having knowledge of God in order to truly know yourself! The original principles of hip-hop are peace, love, community, unity and having fun. Some of the pioneers of this culture saw the creation of this nonviolent movement as the primary means to solve conflict, drug dealing and the mistreatment of women. Ironically, today's commercial rap music actually glorifies the very things that the hip-hop culture was originally against.
As one who grew up in the church and in hip-hop, it has been sad for me to watch the way the church in general has responded to this culture. The response of many churches in the United States has been to paint hip-hop culture as the enemy, as an invention of Satan with the purpose of getting youth to worship evil instead of a holy God. This perspective is held because many can't see hip-hop beyond commercial rap, which is full of negative and stereotypical images of African-American and urban culture: glorifying gang life, pimping, alcohol and drug abuse, and prostitution. The worst of this has been bonded with a corporate entertainment machine that places money over morality. If it weren't for the fact that these rappers clothed in stereotypes were making money, it would be more obvious that commercial rap is the new cotton and the mainstream rap industry is the largest plantation in the United States. The money and access to celebrity status cover up this slavery of art. It's no coincidence that the Dirty South style of rap is the most popular. Slavery in America is historically a Southern economic system, and Dirty South rap seems to have replaced cotton plantations very well. I've talked to people in marketing who have said, "In many ways, the commercial rap industry markets through negative images and stereotypes of African-American and urban youth in order to market to a mostly suburban youth audience." This is why Christians everywhere ought to care about the state and influence of hip-hop culture.
If hip-hop is nothing more than Dirty South rap and not a broader, global influencing culture, then the church is correct in painting it as a demonic force that does more harm than good. But this is simply not the case. The major problem is really one of ignorance; the church doesn't know the real history, elements and principles of the culture. I have great passion about this subject, and I believe the church must seek to understand hip-hop as a culture. If not, then all of the church's rhetoric about caring for people is just empty words. Hip-hop is a harvest field full of youth and adults who are hungry for identity, relationship and community. When you think of all who are influenced by this culture, the millions of lives, it is simply amazing!
uu
So where does one start? How about with the original elements and principles of hip-hop culture? It should be a no-brainer: peace, love, community, unity and having fun. Take the principle of peace, for instance.
Blessed are the peacemakers, for they shall be called sons of God.
Matthew 5:9

Peace is a great place to start because so much of today's commercial rap industry is about the promotion of violence. Through images and storytelling centered on hustling, gang affiliation, drug dealing and prostitution, violence is glorified. We have the opportunity to engage hip-hop culture by being an extension and expression of the peace of God.
One of the pioneers of holy hip-hop culture was a group known as Preachers in Disguise. They later became known simply as Preachas. One of the members of this group is a good friend of mine, Fred Lynch. Fred recently came out with a hip-hop translation of the Bible called The Script; he's also a hip-hop theologian. One of the Preachers' first singles was entitled, "Let Me See Your Fruit." This song spoke to the fruit that comes from advancing the kingdom of God through evangelism, but also through lifestyle choices. Hip-hop ministries, like the Preachers, that connect the principles of hip-hop with the fruits of the Spirit in Scripture create kingdom movements. If hip-hop culture is truly as influential as I'm proposing it is, just think of the global kingdom-advancing potential that exists in engaging this culture. The church cannot afford to write off hip-hop culture as the enemy. Instead, we must be willing to jump into hip-hop.
Because of the impact of hip-hop in the city, this is especially true for the urban church. I was blessed to have pastored a church in Minneapolis that was and still is an evangelical, hip-hop, multiethnic, missional, relevant and urban community. Sanctuary Covenant Church puts on a monthly hip-hop worship experience, runs the Hip-Hop Academy—an after-school program that teaches the real history, elements and principles of hip-hop culture—and provides classes to help people understand various urban subcultures and how we are to engage them. I would not call Sanctuary just a hip-hop church. Sanctuary is a Christ-centered community that has a desire to see the kingdom of God made manifest within urban subcultures such as hip-hop. It is not the only beloved church taking the jump into hip-hop culture; there are others, such as Shiloh Temple Church in Minneapolis, the House Covenant Church in Chicago, and Crossover Church in Tampa, Florida.
Maybe hip-hop isn't the major cultural influence around you. If so, that's okay. Ask yourself what is. And then engage whatever cultures are the major influences around you in order to advance God's kingdom. Whatever the culture may be, we've got to be willing to jump.
Efrem Smith is the superintendent of the Pacific Southwest Conference of the Evangelical Covenant Church, providing leadership to about 160 churches and ministry initiatives in California, Arizona, Hawaii, Nevada and Utah. The founding pastor of Sanctuary Covenant Church in Minneapolis, he is the author of Raising Up Young Heroes, The Hip-Hop Church and Jump: Into a Life of Further and Higher.
This excerpt is from Jump: Into a Life of Further and Higher by Efrem Smith. Copyright 2010 Efrem Smith. Used by permission. Jump is published by David C. Cook. Publisher permission required to reproduce. All right reserved.
To order from Amazon.com: Jump: Into a Life of Further and Higher