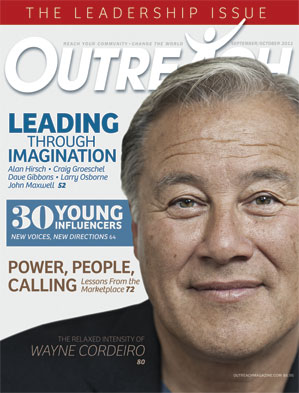 Perspective from Wayne Cordeiro, Alan Hirsch, Craig Groeschel, Dave Gibbons, Larry Osborne, John Maxwell and more than 30 other leaders.

What's featured in the September/October 2011 Outreach?
The Leadership Issue
A Call for Creativity and Conviction
The greatest challenges facing the church and its leaders today cannot be met with yesterday's methodology. We must lead with creativity, innovation and imagination. This is a time for new voices and new directions. But as we engage the culture and participate in what Christ is building in this unique time, we build on a Foundation unmoved and unchanged.
So what does this look like? That's the issue addressed by some of today's leading voices in the church.
IN THIS ISSUE
"Leading Through Imagination" features Alan Hirsch, Craig Groeschel, Dave Gibbons, Larry Osborne and John Maxwell as they creatively engage five critical questions.
What would it look like to bring together the best of missional strategy with contemporary church growth practices?
What would it look like to give away the local church's resources to the greater body, the global church?
What does it mean to follow the upside-down example of Jesus in His loving pursuit of the forgotten, the outcasts and the marginalized?
What is the cost-benefit ratio for making room for the next generation of leaders?
What does it mean to leave a legacy of selfless leadership?
"New Voices, New Directions" introduces 30 emerging influencers who are reshaping leadership itself.
"Leading Well" shares lessons from marketplace leaders, by Gordon College President D. Michael Lindsay.
"The Relaxed Intensity of Wayne Cordeiro: The Outreach Interview" brings perspective to the leadership issue from this well-known pastor and college president.
OUTREACH TODAY
Local church outreach, cross-cultural ministry and outreach to children, youth and seniors
FOR ANY CHURCH, ANY SIZE
Ideas for outreach, the small church experience, retention, new life and church planting
FROM OUTSIDE THE CHURCH
The culture, the church, the question—an outside perspective
ED STETZER—As I See It: As president and missiologist-in-residence for LifeWay Research, Ed Stetzer is in a unique position to observe the American church and comment on trends in outreach. More »
DAN KIMBALL—Church on Mission: Santa Cruz, Calif., pastor and author Dan Kimball gives us a look at emerging generations and offers his thoughts on outreach and evangelism in a new world. More »
BRAD POWELL

—Leading Change

:
Pastor and author Brad Powell offers his experience and insights to help churches realize their full potential and guide pastors through all types of church transitions.
More »
MARK DEYMAZ

—Ethnic Blends

:
Pastor and author Mark DeYmaz urges churches to embrace multiethnic ministry not just for the sake of racial reconciliation, but because that is what the church is called to be.
More »
BOBBY GRUENEWALD—Innovate: LifeChurch.tv pastor, innovation leader Bobby Gruenewald scans the cultural horizon and calls the church to a creative and relevant response.
Each issue of Outreach is designed to bring you the ideas, innovations and resources that will help you reach your community and change the world. Check out our current subscription offer »