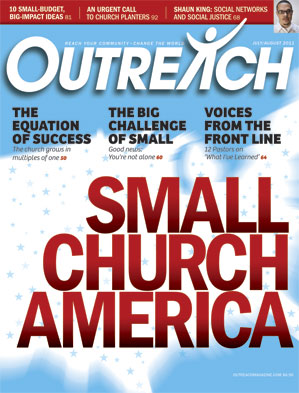 The Equation of Success, The Big Challenge of Small, Voices From the Front Line

What's featured in the July/August 2011 Outreach?
Small Church America
A Celebration
Each issue of Outreach magazine features stories from small churches, highlighting their ideas, innovations and ministry impact. Once a year, in the July/August issue, that is our singular focus.
IN THIS ISSUE
"Kingdom Math" urges a redefinition of "success" as broader and deeper than what can be measured by numerical markers alone. Five inspiring stories of church change, one life at a time.
"Voices From the Front Line" introduces a dozen pastors from smaller congregations recounting "What I've Learned."
"The Big Challenge of Small" and "Prepared to Think Small" explore the support networks and seminary preparation for Small Church America. Is enough being done for this majority of churches?
"Shaun King: The Outreach Interview" explores social justice and social media and the urban small church experience through the eyes of "Facebook Pastor" Shaun King. 
OUTREACH TODAY 
Local church outreach, cross-cultural ministry and outreach to children, youth and seniors
FOR ANY CHURCH, ANY SIZE 
Ideas for outreach, the small church experience, retention, new life and church planting
FROM OUTSIDE THE CHURCH
The culture, the church, the question—an outside perspective
ED STETZER—As I See It: As president and missiologist-in-residence for LifeWay Research, Ed Stetzer is in a unique position to observe the American church and comment on trends in outreach. More »
DAN KIMBALL—Church on Mission: Santa Cruz, Calif., pastor and author Dan Kimball gives us a look at emerging generations and offers his thoughts on outreach and evangelism in a new world. More »
BRAD POWELL—Leading Change: Pastor and author Brad Powell offers his experience and insights to help churches realize their full potential and guide pastors through all types of church transitions. More »
MARK DEYMAZ—Ethnic Blends: Pastor and author Mark DeYmaz urges churches to embrace multiethnic ministry not just for the sake of racial reconciliation, but because that is what the church is called to be. More »
BOBBY GRUENEWALD—Innovate: LifeChurch.tv pastor, innovation leader Bobby Gruenewald scans the cultural horizon and calls the church to a creative and relevant response.
Order this issue from Amazon.com »
Each issue of Outreach is designed to bring you the ideas, innovations and resources that will help you reach your community and change the world. Subscribe here »