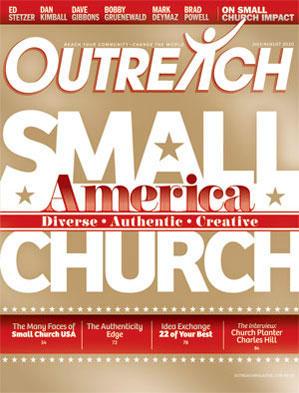 Diverse, Authentic, Creative: How smaller congregations are making an impact
Nine out of 10 American churches are small—and many are dynamic, innovative and transformational, making an inspiring impact on their communities. In this year's Small Church Special Issue, we bring singular focus to the significant kingdom impact of America's smaller congregations.
Touring Small Church America: From Seattle to Miami, and communities in between, small churches are reinventing themselves, bringing a new vitality to the U.S. church scene. This story presents seven types of small churches—their advantages, challenges and successes
Good News for Small Churches: When it comes to authenticity, smaller churches have an edge.
The Smaller Church Idea Exchange: Readers share their best suggestions for inspiration and impact.
The Outreach Interview: Utah Church Planter Charles Hill
ALSO IN THIS ISSUE
Surfers Church; Ministry to Residents Facing Foreclosure; Taking Action in the Community; Providing Firewood for Cherokee Tribe; Kids and Drama; Using Archery to Connect with Youth; Helping Disabled Seniors; and more.
Planning Christmas Outreach; Small-Church Tech Myths; Small Church, Big Idea: Hospitality for Community Sporting Events; Organic Discipleship; Finding Community … and Faith; Exponential Church; and more.
My Life, So Far: Albert M. Lewis; Mystery Visitor: An unbeliever reports on an unannounced visit to a local church. Could it be yours? The Question: Why Don't People Go to Church?
As president and missiologist-in-residence for LifeWay Research, Ed Stetzer is in a unique position to observe the American church and comment on trends in outreach. More »

Pastor and author Dan Kimball gives us a look at emerging generations and offers his thoughts on outreach and evangelism in a new world. More »

Dave Gibbons Global Perspective
As the founding pastor of multicultural and multiethnic Newsong Church, Dave Gibbons seeks to remind the church of its mandate to reach the nations, beginning at "the fringe."
Pastor and author Brad Powell offers his experience and insights to help churches realize their full potential and guide pastors through all types of church transitions. More »

Pastor and author Mark DeYmaz urges churches to embrace multiethnic ministry not just for the sake of racial reconciliation, but because that is what the church is called to be. More »

Each issue of Outreach is designed to bring you the ideas, innovations and resources that will help you reach your community and change the world. Subscribe here »