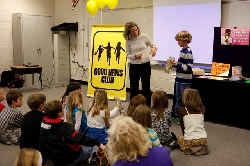 WARRENTON,Mo.—Child Evangelism Fellowship, the largest Christian ministry to children in the world, has announced that it has shared the Gospel of Jesus Christ with 12.1 million children around the world in 2011. This is an 11 percent increase from the 10.9 million children reached in 2010 and marks the 12th consecutive year of growth for the ministry's outreach.
Tom Levanos, the ministry's executive director of operations, says 12.1 million is the number of children who have heard the Gospel from a Child Evangelism Fellowship worker or volunteer in person; through the ministry's correspondence club, called the Truth Chasers Club; or through the ministry website Wonderzone.com. It does not include the number of children who have been reached through mass media efforts, which are numerous. Child Evangelism Fellowship has conducted mass distributions of "Meet the King," a succinct explanation of the Gospel for children, in Europe and currently in Africa and the United States. Other interesting media outreaches include a TV show in Denmark called GPS and a satellite ministry in South Africa that reaches the entire African continent. While it is unknown exactly how many children are reached through these mass media efforts, Levanos conservatively estimates the number at about 6 million.
The principle means Child Evangelism Fellowship uses for reaching children in person is its Good News Club ministry. Good News Clubs offer a mix of engaging Bible instruction and good fun for elementary school children who are taught that one's faith in Jesus Christ is evident through loving others. Its emphasis on kindness and good behavior has met with resounding applause from public school principals who are working hard against bullying and other forms of aggression in their schools. Child Evangelism Fellowship receives testimonies regularly about the positive impact Good News Clubs have on schools, like this one from a principal of a public school in Chicago: "The Good News Club that you started here has been a resounding success. The children look forward to it, and so do the parents. It is the best-attended after-school activity that we have. The character-building aspect of your program has been in keeping with the vision of our school. The students are learning good moral behavior in a fun-filled atmosphere. This has translated into a more positive atmosphere in the school among the students."
In the United States, Good News Clubs meet in public schools after the school day is officially over. In addition to meeting in public schools, the clubs meet once a week in a variety of venues including parks, churches and backyards. Last year, Child Evangelism Fellowship ran 42,312 Good News Clubs worldwide, a 28 percent increase from 2010. Levanos said Child Evangelism Fellowship does not keep track of the exact number of the tens of thousands of volunteers that run these clubs, but the ministry organization keeps track of the number of teachers it trains. For each of the past eight years, it has trained more than 250,000 teachers.
Generally, 15 percent of the teachers trained each year become involved in Child Evangelism Fellowship ministry. The remainder use their training in a variety of ways, including teaching Sunday school classes and teaching their own children or grandchildren. Recently, a ministry in Ireland that partners with Child Evangelism Fellowship offered to print a modified curriculum for free for these teachers. "The hope is that the literature provided by the ministry in Ireland will equip the 85 percent remaining to more effectively minister to children through their churches or other opportunities." Levanos said. "This is a very promising development for us in our effort to reach out to as many children as possible around the world."