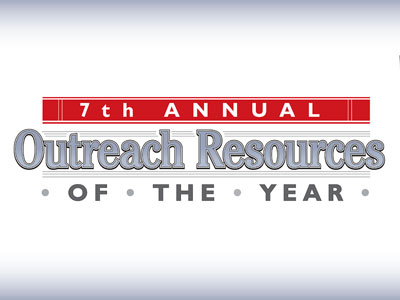 SAN DIEGO—For the seventh consecutive year, Outreach magazine is accepting nominations of outstanding outreach-oriented books and other media for the annual Outreach Resources of the Year Awards.
Nominees must have been published and made available to the public between Nov. 1, 2008, and Oct. 31, 2009, to be considered for the awards, which celebrate and encourage excellence in resources designed specifically to help the Church reach out in areas such as evangelism, compassionate service and cross-cultural ministries locally and worldwide.
Outreach  magazine—a leader in sharing the insights, stories and ideas that drive outreach-oriented churches—will narrow the field of nominees. Expert panelists specializing in specific areas of outreach will then evaluate the nominees and select award winners.
Publishers and producers of outreach-oriented media can nominate books, DVDs and other resources by submitting nomination forms available at OutreachMagazine.com/ory. Nominations must be received by Nov. 9, 2009, to be considered.
Award recipients will be featured in the March/April 2010 issue of Outreach magazine.
Publishers, use the Normination Form in the Attachment box in the right-hand column to submit entries.
Award-winning Outreach magazine offers insights from nationally recognized church leaders, articles examining outreach trends and challenges churches are experiencing, profiles of innovative ideas in use, and practical guides for implementing new outreach efforts. Based in Vista, Calif., and published by Outreach, Inc., Outreach has a circulation of 30,000, and a readership of 80,000.
MORE INFORMATION
Contact Scott Marshall
760-940-0600, ext. 3254