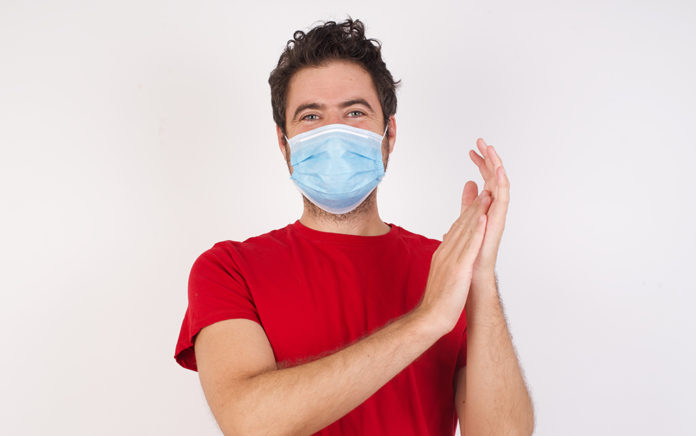 Starkville, Missisippi, church finds a new way to worship during the pandemic
For local Starkville church Christian Faith Missionary Baptist, honking horns have replaced amens at the church's Sunday morning gatherings.
The small church, located on Whitfield Street near Starkville's Greensboro Street Historic District, has started holding outdoor drive-up services under the trees behind its building to provide members and guests with a safe way to worship.
When COVID-19 initially hit, the church moved its services online through Facebook Live. Several months later, after learning about the proper CDC guidelines for gatherings and attending various pastor meetings about the issue, Pastor Demarrio Brown implemented new measures for a return to in-person gatherings, such as marking off every other pew in the small, traditional sanctuary. However, only a few members returned to the in-person gathering.
The turnout for the outdoor service, "Worship on the Ground" as they call it, was much greater than the turnout for their indoor service.
"That's when we experienced people coming back, especially the older crowd— that was good for them, lot of elderly with underlying conditions," Brown said.
Alisha Brown, Pastor Brown's wife, said it warmed her heart to see the members of their congregation returning.
"I miss just congregating together and worshipping together, so I'll take it any way I can get it, as long as we can meet and worship together," Alisha Brown said.
Angela Sherman, a first grade teaching assistant at Sudduth Elementary who sings in Christian Faith's worship band on Sunday mornings, said she was initially not a fan of the outdoor services but has since come to love them.
"I had to put that to the side—my feelings about not being an outside person—because me worshipping God is more important," Sherman said.
With her rich voice and flamboyant polka-dot flare pants, Sherman's worship style is far from subdued. However, she said singing outside is not quite the same as singing inside the sanctuary, as she is worried about bothering the residents of the nearby houses with her passionate vocals.
"My thing is, being in a neighborhood outside, I'm a little timid, whereas inside I can just let loose the way I want to. It's hard for me to hold back because that's what I do; I love it. So it's different because I can't just let it out the way I want to," Sherman said.
So far, no complaints have been made about Sherman's singing, but Pastor Brown said they would probably need to reign in the chorus of honking horns out of respect for nearby residents.
One challenge Christian Faith has had to overcome to accommodate Worship on the Ground is their current financial situation. Due to having a small congregation with some low-income and retired members, the church relies heavily on donations of technological equipment.
However, Alisha Brown said Christian Faith has no problem with making do with what they have. One Sunday they did not have the proper cord to hook up the keyboard, but that did not hinder their worship.
"We still know how to do it without it. We can still clap our hands, pat our feet and sing unto the glory of God," Alisha Brown said.
Pastor Brown said one of his favorite things about Worship on the Ground is that it has drawn some new faces.
"It's not about race; it's not about color, denomination. We are all coming together as one. That's what I like the most is seeing different people come by—that's a blessing," Pastor Brown said.
Alisha Brown said the outdoor services are a visual representation of the true nature of the church.
"The church is not just inside, but we are the church. We as believers are the church," Alisha Brown said.
Although members worshipping from their cars in a dirt parking lot under the trees is a far cry from a traditional Sunday morning gathering, Pastor Brown said he was grateful for the opportunity for his church family to be together again.
"It took some adjusting, especially when you're used to the witnessing and amens in church, so it was different. But once you get adjusted to it, it's just as good," Pastor Brown said.
First posted on Reflector-Online.com. Used by permission.