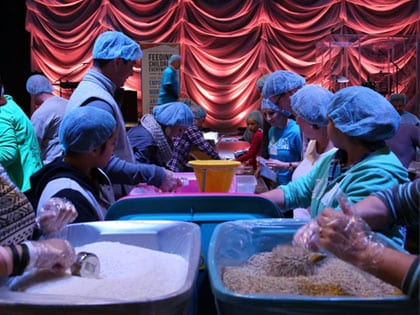 More than 1,000 volunteers gather at LowCountry Community Church to pack meals for thousands of low-income families.
On Nov. 14, more than 1,000 volunteers from LowCountry Community Church (LCC) and various local organizations in Bluffton, South Carolina, gathered to pack healthy meals for 125,000 people as part of the church's second annual Hunger Project.
Working in assembly lines inside LCC's auditorium, volunteers meticulously measured out scoops of lentils, rice, pink Himalayan salt and rehydrated vegetables into plastic funnels. The meals were then placed into plastic bags, weighed, sealed and packed. While the volunteers worked, trained table captains cheered them on.
Once the packing was done, several local food banks distributed the meals to low-income families in the Bluffton community.
"Just knowing that once we were done packing the meals they would be heading out to families in need made us all cheer," said Benedette McGuire, director of missions and outreach at LCC. "It makes a lot of people realize that serving others and meeting their real needs does not have to be complicated."