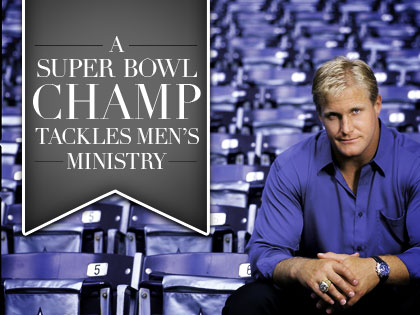 Chad Hennings, a former defensive lineman for the Dallas Cowboys, discusses his dependence on God and helping other men grow in their faith.
A combat veteran of the U.S. Air Force and three-time Super Bowl champion as a defensive lineman with the Dallas Cowboys, Chad Hennings co-founded Wingmen, a men's ministry in the Dallas area that strives to help men form strong friendships and support one another as they grow in their faith and live out their Christian lives. In his book, Rules of Engagement: Finding Friendship, Faith and Strength in a Disconnected World (Faith Words, 2009), he shares some of his faith journey and how men need to help one another to be the men God wants them to be. Here, he shares his story, as told to Outreach magazine Senior Associate Editor Scott Marshall:
"I have nothing more that I can give, God. I have to trust in you."
I told God that after my son, Chase, got sick. Up until that point in time, I'd had the ability to fix and to correct and to work my way out of every obstacle. I was a celebrity athlete with the Dallas Cowboys and had just played in my third Super Bowl after only four years in the NFL. Everything was the way you'd dream it to be. Then one morning Chase, who was just 2 ½ at the time, woke up with an illness.
He had an inability to walk, stiffness, achiness. The pediatrician speculated it might be the flu or a virus, but Chase continued to spike high-grade fevers. He couldn't communicate what was hurting him and spent a lengthy period of time in the hospital. We flew all over the country and all over the world, and every doctor seemed to have a different opinion on what it could be, but bottom line, it was an autoimmune illness. His body was attacking itself for some reason.
I felt hopeless, just flailing. To see my son suffer and to go through what he did, I guess I had two options—turn away from God or turn to Him and come at his feet and lay it all out.
Up to that point, a lot of my testimony had centered on a works-based mentality. I had a tremendous work ethic, and I approached my faith in much the same way. But my son's illness was the impetus that caused me to realize that I cannot overcome certain things by my own strength, that there's got to be more to my faith walk than this. It was the stimulus for me to truly establish a relationship with Christ.
Growing up, I had a strong, conservative Lutheran background. It was a great upbringing; we learned a lot of Bible knowledge. But if it was lacking anything, it was the relationship piece of the faith walk. It was a lot like eating bread. It's very sustaining and filling. But bread doesn't have much taste. There can be a certain blandness or repetitiveness to it. That's where the relationship piece comes in and where, really, my faith came alive.
I remember during the first Gulf War getting more serious about my faith. All through junior high, high school and even college, I never thought I'd actually have the opportunity to play pro football so I went to the Air Force Academy to go for the best education possible. During the war, I was based in Turkey outside the city of Adana and flying A-10 Thunderbolts into Northern Iraq. I attended chapel services on the weekends along with the Turkish Christians that worked on base who told stories of Christians in certain areas there being tortured and martyred. Those stories had a great impact on my faith, really upped the ante.
I had an eight-year military commitment. But who'd have thought the Soviet Union would collapse and that after the Gulf War, our armed forces would go through such a reduction in force they'd waive my service commitment. I immediately left the Air Force with everybody else and played for the Cowboys, where three of my first four years were Super Bowl championships. And then God sustained us through my son's illness. God's hand is all over this. It builds my faith.
Systemically, Chase is fine, but the disease did a number on his joints, and he's currently in a wheelchair. We're still hopeful God has something great for him, that he'll have a productive life doing whatever God calls him to do.
After retiring from the NFL [in 2001], I was seeking to learn more and more about theology. I read a lot of commentaries, etc., and I began to meet weekly with a pastor friend over breakfast. One day, we started talking and realized, we need to open this up for other men to establish friendships where we can share our lives. So we opened up our meeting time to five or six other guys and met for a few weeks monthly. Then we thought, "Let's get serious about this." My pastor friend said, "Chad, I think you're meant to lead it." And that's literally how Wingmen started.
We have impacted a lot of men and we're effective at what we do—encouraging men to formulate relationships that transcend the superficial culture men face in our times today, to really try to establish that Jonathan-and-David covenant relationship where we can talk honestly about our failures, our shortcomings, as well as our successes and victories. I view playing in a Super Bowl or flying missions in combat not as an end in themselves, but as a means to an end—to encourage other men to not remain stagnant and not recede, but to continue to grow in their faith and to be more bold and to stand up for what you believe. To be the husband, the father, the business leader. To lead yourself and impact your community.
This article originally appeared in the March/April 2010 issue of Outreach magazine.