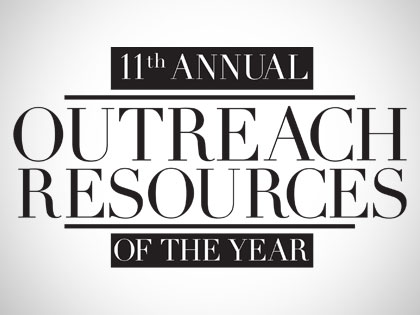 Outreach magazine's 11th annual celebration of the best books and media in apologetics, leadership, global outreach and much more.
For the 11th consecutive year, Outreach magazine is celebrating some of the best outreach-oriented books and curricula by honoring them as Outreach Resources of the Year.
The 18 resources chosen to receive the distinction this year are highlighted in the just-released March/April 2014 issue of Outreach, which also delves into the issue of America's rising Hispanic church.
The Outreach Resources of the Year aim to highlight valuable resources for church leaders and bring deserved attention to resources that can help churches better engage in effective outreach to share the gospel and reach our communities for Christ.
More than 170 resources published between Nov. 1, 2012, and Oct. 31, 2013, were submitted to Outreach for consideration. Outreach editors narrowed the field to 112 and placed them in categories.
The magazine then asked an expert in each category to evaluate the resources and choose what they considered to be the best.
Each panelist independently evaluated the resources in his or her area of expertise and selected what he or she thought were the best. The experts chose how many resources to recognize in their respective categories, and whether to include any as "Also Recommended."
The 2014 Outreach Resources of the Year are:
Apologetics
Confident Faith: Building a Firm Foundation for Your Beliefs
By Mark Mittelberg (Tyndale)
A Reasonable Response: Answers to Tough Questions on God, Christianity and the Bible
By William Lane Craig and Joseph E. Gorra (Moody)
Leadership
What Every Pastor Should Know: 101 Indispensable Rules of Thumb for Leading Your Church
By Gary L. McIntosh and Charles Arn (Baker Books)
Culture and the Church
Bold as Love: What Can Happen When We See People the Way God Does
By Bob Roberts Jr. (Thomas Nelson)
Church Health
What Jesus Started: Joining the Movement, Changing the World
By Steve Addison (IVP)
Global Outreach
From Times Square to Timbuktu: The Post-Christian West Meets the Non-Western Church
By Wesley Granberg-Michaelson (Eerdmans)
Compassion
The World is Not Ours to Save: Finding the Freedom to Do Good
By Tyler Wigg-Stevenson (IVP)
Justice
Orphan Justice: How to Care for Orphans Beyond Adopting
By Johnny Carr, with Laura Captari (B&H)
Resurrection City: A Theology of Improvisation
By Peter Goodwin Heltzel (Eerdmans)
New Beginnings
Pursued: God's Divine Obsession With You
By Jud Wilhite (FaithWords)
Small Group Curricula
The Real Win: Pursuing God's Plan for Authentic Success
By Colt McCoy and Matt Carter (LifeWay)
Missional Living
Get Off Your Donkey! Help Somebody and Help Yourself
By Reggie McNeal (Baker Books)
Follow My Lead: Responding to God's Voice in Everyday Encounters
By Holly A. Melton (Regal)
Biography
Sent: How One Ordinary Family Traded the American Dream for God's Greater Purpose
By Hilary Alan (WaterBrook Multnomah)
Christian Living
Minding the Heart: The Way of Spiritual Transformation
By Robert L. Saucy (Kregel)
Children's Outreach
MEGA Sports Camp: Breaking Free
(Gospel Publishing House)
Audrey Bunny
By Angie Smith, with illustrations by Breezy Brookshire (B&H)
Youth Outreach
Teenagers Matter: Making Student Ministry a Priority in the Church
By Mark Cannister (Baker Academic)
The March/April 2014 issue of Outreach also features an interview with Samuel Rodriguez, senior pastor of New Season Christian Worship Center in Sacramento, Calif., and president of the National Hispanic Christian Leadership Conference., about America's rising Hispanic church; a look at the church's response to the issue of immigration, through the eyes of World Relief's Glen Peterson; and an examination of how we measure discipleship.
Outreach magazine offers the ideas, insights and stories of today's outreach-oriented, Bible-based churches. Founded in January 2003 by church communications company Outreach Inc., Outreach is an award-winning, bimonthly periodical for church leadership. Each year, Outreach publishes the Outreach 100, a special issue in September that features the 100 Largest and Fastest-Growing Churches in America; the Small Church issue (July/August); and the Outreach Resources of the Year (March/April). Outreach is available by subscription.
View the panelists for the 2013 Outreach Resources of the Year