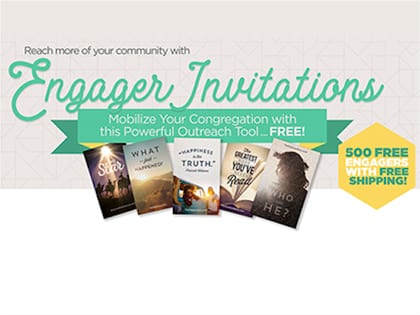 In partnership with Every Home for Christ, Outreach Inc., the parent company of Outreach magazine, has developed a tool to equip your congregation to talk with their friends and families about Jesus—and you can receive 500 free.
Outreach Engager Invitations are beautifully designed, modern-day tracts that are designed to start conversations about Jesus and then encourage seekers to take their next step of faith by visiting a special website where they can explore the topic more.
Available in 10 unique designs, these Engagers have full-color graphics on the front and back. Churches can customize Engager Invitations with their information printed on the back. The invitations are delivered already folded t roughly 4 by 7-inches and ready to hand out.
Visit Outreach.com/Church-Invite-Tools/Free-Engager-Invitations for all the details.