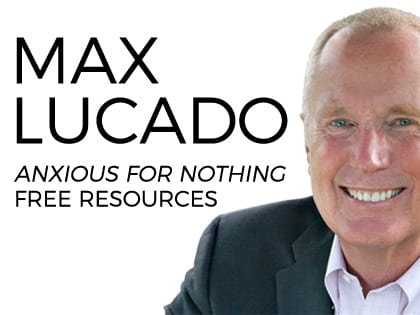 Subscribe to Outreach magazine today and receive a FREE copy of Max Lucado's new book Anxious for Nothing!
In addition, we are offering all readers free samples from the Anxious for Nothing study guide. Click the following links to view and download this free content:
What's in the Video Curriculum:
In this five-session video Bible study, Max Lucado explores God's promise in Philippians 4:4–8 and shows that while anxiety is part of life, it doesn't have to dominate life. As you follow God's prescription for worry, celebrate his goodness, ask for help, leave your concerns with him, meditate on good things—and you will experience his peace. You can stop letting anxiety rule your day and find true calm and contentment in Christ.
Sessions include:
Rejoice in the Lord Always (21:00)
Let Your Gentleness Be Evident to All (20:00)
Present Your Requests to God (21:00)
The Peace of God Will Guard Your Heart (21:30)
Meditate on These Things (21:30)
Designed for use with the Anxious for Nothing study guide (sold separately).
About Anxious for Nothing:
In the characteristic tone of his previous books like You'll Get Through This and Fearless, Max Lucado guides readers through the Scripture passage Philippians 4:6–7 and explains the key concepts of celebration, asking for help, leaving our concerns and meditating.
Stop letting anxiety rule the day. Join Max on the journey to true freedom and experience more joy, clarity, physical renewal and contentment by the power of the Holy Spirit. Anxiety comes with life. But it doesn't have to dominate your life.
Order the book on Amazon.com »