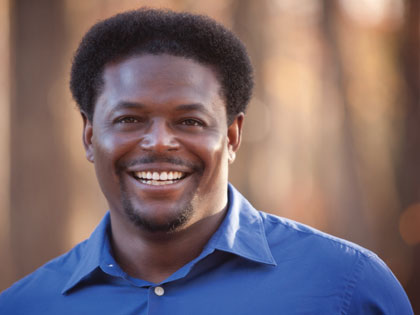 I came to faith at 26 years of age through a teammate of mine in the NFL, so relational evangelism is very important to me. I do a lot of my studying and sermon preparation at Starbucks, my modern-day Jacob's well. The more the lead pastor is in love with Jesus, and the more evangelistic the lead pastor is personally in their day-to-day life, that will color and influence how that church engages their missional contacts.
We are all about prayer that uniquely positions us in places where there are broken people in need of God's grace. We began to adopt schools, and to adopt a school does not mean we go in saying John 3:16. We go in and embody John 3:16 by mentoring students, helping with homework, teacher appreciations. At the beginning of every school year, we give out hundreds of backpacks to needy kids and families. Every Christmas we provide a Christmas for families unable to do so. We feed 100 kids a week through our backpack ministry.
We are shaped by God to reach the world for Christ. If you're in seventh grade, you're a missionary at school. If you work at Bank of America, you're a missionary at Bank of America. If you teach pilates at the YMCA, you're a missionary there. We are called to honor God and make an impact in our community, regardless of whether people walk into Transformation Church or not. That's our strategy.
We preach the Gospel. We throw out formulas. Transformation Church's first year in existence was 2010, and by percentage, we were the second fastest-growing church in the country because our congregation is getting it. A lot of times when I talk to other pastors, they are like, "Give me the formula," and I'm like, "Dude, there is no formula, but there is a person—there's Jesus."
Evangelism and discipleship are two sides of the same coin. If we try to do too many church programs, then we miss the person of Christ. The early disciples of Jesus didn't have church programs. They were overwhelmed with the person of Jesus, and they shared that good news. We talk about what Christ has accomplished, not with what He wants us to do, because it all starts with what He has done, then what He empowers us to do. If we as followers of Christ are overwhelmed by what Jesus has done, and the benefits of His grace transform our lives, then sharing our faith should be natural.
—As told to Jennifer Kabbany