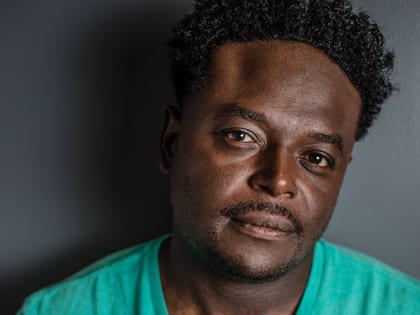 "Here's the thing that still blows me away: I knew that I was loved, and that love wasn't based upon how I performed."
In a game against the Dallas Cowboys, Derwin Gray hears his knee ligaments snap—Pop! Pop!—and he knows his two saviors have become permanently disconnected.
Football and Jesus. As his first savior plunges into dirt, Derwin prays to his new Savior.
He writhes in the pain from the second ACL tear in the same knee; he knows his career is over.
"Football was my source of identity; it determined who I was," Derwin says. "It was my functional savior."
As saviors go, it had been effective, brutal and cold-blooded.
At the sudden end of his career, Derwin already knows Jesus.
They had been introduced by his coaches at Judson High School. In a community where absence of hope and fathers are the norm, men like D.W. Rutledge and Mike Sullivan invested into Derwin in the name of Christ.
But it was the "naked preacher," an Indianapolis Colts teammate, who first asked, "Rookie Derwin Gray, do you know Jesus?"
On a stretcher five years later, Derwin prays to know his Savior better.
The pastor of Transformation Church near Charlotte, North Carolina—one of the fastest-growing churches in America—and author of The High-Definition Leader: Building Multiethnic Churches in a Multiethnic World, Derwin tells the bizarre and wonderful story of God's answers to that prayer.
Tell me about your childhood.
I grew up in San Antonio, Texas, on the lower west side—lower-income, pretty violent. We were on food stamps. The house I grew up in had roaches all over the wall. But all of those things were normal in my neighborhood. We didn't know things could be different. My mom had me when she was 17 and my dad was 19. My dad was not married to my mom. He was around but they had an on-and-off relationship. That was kind of the way it worked in my family. The girls would have babies and my grandmother would take care of them.
Your mom was one of the first African-Americans to experience desegregation. What was that like for her?
Back in the early '70s, she was being bused to Thomas Jefferson High School, a primarily all-white school. That was a difficult for her. I remember the stories she shared with me. She loved to play the violin but when she got there she was told, "There's no need for you to play the violin because people like you become maids." When she was pregnant with me, the school nurse told her to go to California and have an abortion.
How did she react?
She kept playing the violin and she told them, "Hell no, we don't kill our babies." At 17, in a radically different culture, she was a leader. She made courageous decisions. Without her strength of conviction, I wouldn't even be here.
Your father left when you were young. How has that affected you?
He lived four blocks away from where I lived. Where I grew up, when you're a kid, you just wake up and go to school and do what you do. You don't know anything about abandonment issues. You don't blame a father who rarely shows up because, again, that's the norm.
What issues did your parents struggle with?
During the '70s and '80s there was a proliferation of crack cocaine and heroin. In my family it was like the 8-ton elephant in the room that everyone pretends is not there. In black America almost everyone struggled with substance abuse, addiction, and no one finished high school or went to college.
What is your most vivid memory of your father?
When I was in fifth grade, I was playing flag football and my dad showed up. We were playing a really good team and driving the ball. On TV I saw a play called a bootleg. The quarterback fakes a handoff, hides the ball and defense goes in the wrong direction. I ran the bootleg and scored. My teammates put me on their shoulders and cheered. I just remember how happy I was that my dad was there.
Tell me about your relationship with football.
When I was a little boy, my grandmother would open the door and say, "Don't come back until it gets dark." I followed my cousin and four other older boys and we played football in the streets. I developed a love for the sport. Even at the age of 15, I knew the life I saw around me was not the life I wanted. My middle school coach told my mom that if Derwin works hard maybe he could get a scholarship. And I asked, "What kind of ship is that?"