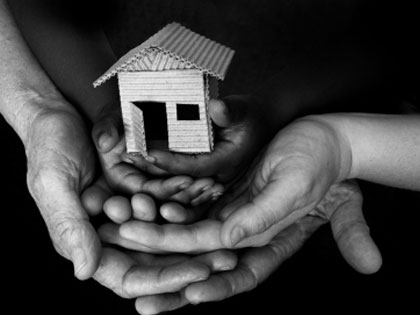 The Church: Community of Grace Lutheran Church
The Challenge: Show God's love and provide meaningful support to families affected by mental illness
One Key Idea: Offer a Christian peer-to-peer support group
As someone who watched his life implode following a painful manic episode, Community of Grace Lutheran Church Pastor Brad Hoefs understands just how serious America's mental health crisis really is.
Today, one in three Americans is dealing with some type of mental disorder—depression, anxiety, etc.—and suicide rates are at unprecedented levels. From 1999 to 2010, suicide rates among middle-aged Americans jumped nearly 30 percent.
Yet the church, Hoefs says, has largely sat idly by as an average of 86 people commit suicide each day.
People are hurting, but they often feel judged and marginalized by the church, says Hoefs, who resigned from his job as pastor of one of the nation's fastest-growing megachurches in 1995 following an incident triggered by undiagnosed bipolar disorder.
"We have the ultimate hope that can get anybody through anything," Hoefs says. "There is a huge crisis in our culture, a mental health crisis, and people are screaming for help, but the church hasn't been doing anything, as a whole."
But this is beginning to change, especially since the tragic suicide of Matthew Warren, Saddleback Church Pastor Rick Warren's son.
"I'm trusting God will bring about good from all of that," Hoefs says. "His death, though, is evidence of the humongous need there is in the church at large to address this issue."
To do that, Hoefs has created a ministry—Fresh Hope, a Christian peer-to-peer support group.
In 2007, he felt called to start the group. For two years, he searched the Internet for materials that would help him lead such a group from a biblical, hope-filled point of view. Surprisingly, he couldn't find any materials or any faith-based groups.
So, with input from his doctor, Hoefs developed six biblical tenets for those with mental health issues—principles he found instrumental in his own recovery. Recently, he published the wellness workbook Fresh Hope: Living Well in Spite of a Mental Health Diagnosis, which churches and individuals can use to start their own Fresh Hope groups.
The ministry is already experiencing remarkable success. A recent survey found 83 percent of weekly participants reported feeling more hopeful. Of the 88 percent who were previously suicidal, 86 percent said those urges are now gone or they are less suicidal.
One of the people the ministry helped is Jamie Meyer. The 56-year-old Lincoln, Neb., resident became seriously depressed in 2007 during a time of intense stress and only months after doctors discovered she had a benign brain tumor. After finding Fresh Hope online, she and her husband Allen decided to start their own group, one of a growing number nationwide. About 25 people attend the weekly meetings.
"I'm more hopeful now than with just medication and counseling," Meyer says. "I feel better about myself. I've made new friends who are very supportive. There are just so many good things—just being able to be supportive to other people and to share my own experiences with others."
And while he's no longer shepherding a megachurch, Hoefs says Fresh Hope has had a remarkable impact on his 100-member church in West Omaha, Neb. The church has experienced significant growth in recent years.
"Of those, about 95 percent came through Fresh Hope," Hoefs says. "One of the pastors of a megachurch in Omaha gave me an endorsement for my book. He said if the church didn't learn how to help broken and hurting people they would be irrelevant, no matter what, within 10 years."
MORE ABOUT COMMUNITY OF GRACE LUTHERAN CHURCH
This article originally appeared in the September/October 2013 issue of Outreach magazine.