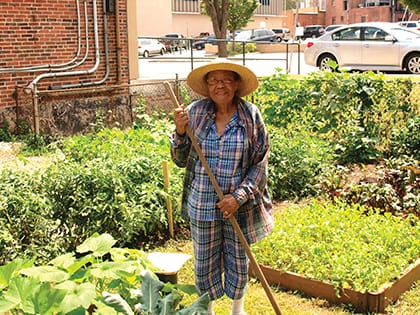 Despite Christianity's statistical decline in America, churches on mission are finding creative ways to facilitate gospel transformation in their cities. Here, we share the stories of three churches that are spreading the gospel directly and indirectly in their spheres of influence, using holistic ministry initiatives and evangelistic strategies to bring about true, lasting change in the people of their communities.
Feeding a City
Pleasant Hope Baptist Church Combats Baltimore's Food Insecurity
In April 2015, a 25-year-old African-American man named Freddie Gray was arrested in Baltimore. The following week, he died in police custody, sparking major protests throughout the city, including a clash between residents and police that resulted in a state of emergency being declared.
"My phone starting ringing off the hook at the church," says Dr. Heber Brown III, senior pastor of Pleasant Hope Baptist, a historic African-American church in Baltimore. "Some of the communities that were at the epicenter of the uprising were starving because their corner stores were put out of commission.
"People were saying, 'Pastor Brown, can you bring us food? We're hungry. We need food.' Up to that point, that was one of the unique fingerprints of our ministry; that's what we were known for. That's what I was known for: food."
For several years, Brown's team at Pleasant Hope had been investing in and growing a ministry and network that had proved to meet a critical need in the city: providing fresh, affordable, healthy food for families in lower-income neighborhoods.
It began in 2011, when Brown noticed a need in his own congregation following a series of pastoral-care visits to the hospital for members who were suffering from diet-related health issues.
"I wanted to do something beyond just coming to pray and read Scripture and give spiritual support," Brown says. "I wanted to do something concrete on the physical side, as well."
Brown paid a visit to a fresh-produce market located across the street from Pleasant Hope, seeking a partnership. But he was frustrated when he learned that the prices were simply too high for most in his church to afford.
The U.S. Department of Agriculture (USDA) defines a "food desert" as a part of the country devoid of fresh food, vegetables and other healthful whole foods. "Admittedly, in our community we don't live in a food desert by the USDA's definition," Brown says. "What I realized was, we live in a 'food mirage.' We're like a mirage in the desert because we can see what we need, but we can't touch it."
As Brown walked back from the market, full of what he calls "righteous discontent," God directed his attention to a 1,500-square-foot plot of land in the church's front yard that had been utilized for community cookouts and other events.
"I saw this part of our land, and I really felt God saying, 'Use what you have,'" Brown says. "And in that moment, the frustration teeming up in me, God gave me a vision of taking this land and making it into a garden. And that's what we did."
To get started, Brown enlisted the help of church members, many of them seniors, who had grown up on farms in the South. In particular, a member named Maxine Nicholas, whom the garden is named after, was integral in establishing the ministry.
Over the next four years, Maxine's Garden became well-known throughout Baltimore, and Pleasant Hope gave away fresh produce like sweet potatoes, tomatoes, kale and cabbage to the community on weekends. But when Freddie Gray died and Brown's phone began ringing, the pastor knew he had to expand his vision beyond just one community garden.
Brown called Aleya Fraser of Black Dirt Farm on Maryland's Eastern Shore, who "put a call out to her network of farmers and black food distributors up and down the mid-Atlantic," he says.
"These trucks started coming to Baltimore, full of fresh produce from everywhere," Brown says. "They took their food to different places. We transformed our church's multipurpose room into a food-distribution center where we processed and packaged the food, loaded it up on the church van. And we set up shop in the places where other social systems had backed up—the buses weren't running, the schools had stopped, the residents were hungry."
After several weeks of this, Brown realized they had the beginnings of a citywide system. He capitalized on the momentum, calling other Baltimore pastors he knew who had an interest in starting their own church gardens, and established an organization called the Black Church Food Security Network. Today, the network consists of 13 churches in Baltimore. Brown also has met with pastors across the country to share his strategy.