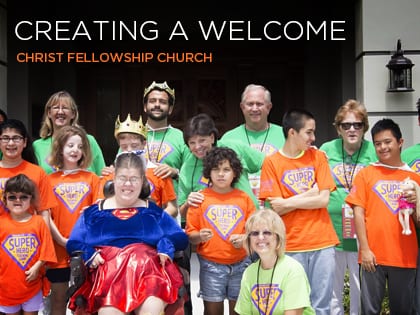 Christ Fellowship Church Grows to 9 Campuses
Sanjeev Bhatia, of Wellington, Fla., says he still remembers the morning he walked through the doors of Christ Fellowship Church in South Florida with his wife and three daughters in 2010. Bhatia, now a Christian, had practiced the Hindu religion all of his life, but longed for a more personal relationship with God.
"Just walking into the church and seeing the love of the people as soon as you walked in," Bhatia says, "I felt connected. They didn't care about my background, and I felt I belonged even before I believed on Jesus."
Creating a welcoming atmosphere has been a focus at Christ Fellowship Church since Tom and Donna Mullins established the congregation in 1984. Today, the ministry holds Sunday services on its main campus in Palm Beach Gardens and at six other South Florida campuses, as well as one of its newest campuses in New York City.
"There are a lot of New Yorkers who now live in Palm Beach County," says Todd Mullins, the Mullins' son, who took over as co-pastor with his wife, Julie, in 2011. "And many of our people have family in New York City, so we see it as an opportunity to reach people there and build a strong connection back to this county."
The region around Christ Fellowship's Florida campuses is economically diverse with the super-rich living in some cities and the poor living in others. So the church has looked for ways to serve some of the region's poorest communities, Mullins says. Besides overseas missions, the church regularly sponsors mission trips to places like Belle Glade, an economically depressed, agricultural community in Palm Beach County.
In addition to missions, the church offers ministries for women and seniors, as well as a ministry that targets middle and high school students. Christ Fellowship's youth attend a Wednesday night worship service and participate on Serve teams where they learn to use their gifts and talents in the church.
Last summer, the students spent time in Belle Glade painting buildings and holding Bible clubs for children.
"Our focus on our children and student ministries and the platform that we give them have had a huge impact on our growth," Julie Mullins says.
Another ministry that has helped spark growth is Christ Fellowship's Special Needs Ministry for children with disabilities. The department has "shadow" ministers who assist the children and administer programs such as art therapy, support groups and a Saturday therapeutic horseback riding ministry.
"Many parents have told us that this is the first church they have ever been to where they have been able to worship and know that their children are being loved and cared for," says Todd.
Christ Fellowship also draws visitors through the workshops and preaching of John Maxwell, a popular speaker and author of books on leadership. Maxwell is a teaching pastor at Christ Fellowship.
"John Maxwell's partnership with our church has had a huge impact on our ability to reach our community and business leaders," Todd says.
As the church has expanded, finding new leadership to work at the campuses has been a challenge. "Your vision can't outpace your leadership capacity," says Todd.
To help prepare new leaders, the church has opened the Kaleo School of Biblical Leadership. The 15-month, intensive, tuition-based program offers courses on biblical theology, leadership and practical ministry.
Another issue is finding ways to get people into the church buildings in an era in which people can hear sermons and praise music over the Internet at home, Todd says. In response, they have worked to create an atmosphere of faith and fun at church that is more than what worshipers could ever get over their iPhones, he says.
Visitors to Christ Fellowship can experience the atmosphere of faith when they walk into the building and encounter greeters who are prepared to pray with them if needed. The church also hosts parties to recognize their volunteers and organizes events such as after-church ice cream parties.
"We also wanted to create a place full of family where people feel like they belong," says Todd.
CHRIST FELLOWSHIP CHURCH
Palm Beach Gardens, Fla.
Senior Pastor: Todd Mullins
Twitter: @JToddMullins
Website: GoChristFellowship.com
Founded: 1984
Affiliation: Nondenominational
Locations: 9
A 2015 OUTREACH 100 CHURCH
Attendance: 21,516
Growth in 2014: +1,256 (6%)
Fastest-Growing: 80
Largest: 10