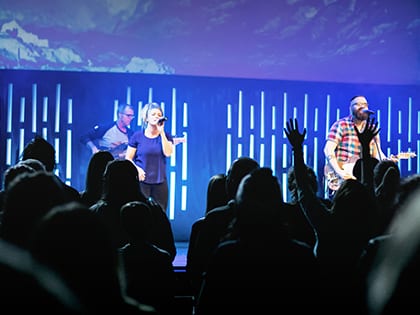 It isn't surprising when a fast-growing church has multiple locations, but when one of those sites is located in a minimum-security prison, people take notice. David Kinnan, lead pastor of Fountain Springs Church in Rapid City, South Dakota, says launching a satellite location in a jail dovetails with the church's belief that anyone and everyone matters.
"If everyone who calls on the name of the Lord will be saved, we decided to help everyone know about the Lord," he says. "We are to go to where there are no churches and bring Jesus. The Bible says not to forget those in prison."
When the church decided to pursue a multisite model, the leadership wanted to make sure the first launch would be a gift to God. At the same time, Kinnan was asked to start a Bible study at the local prison.
"We wondered if we could put a location there, and the prison was open to it," he says. "We set it up in the visitation area. We treat them as part of our church. We'll have 50 to 60 inmates attend each weekend—and just like a normal church, more come on Christmas and Easter. Most of the fellows are getting released in the near future. When they get out, we host a prodigal party for them. Often, they stay around and we help them begin their new life."
Because the "anyones" and "everyones" can be unfamiliar with church, Fountain Springs intentionally tries to bridge that gap by having clearly marked signage and adopting a music and décor style that mirrors the community.
Slade Herman, who volunteers as a guest-services coordinator, says the church goes out of its way to make everyone feel comfortable. "Before I knew their names, the staff knew mine," he says. "Pastor David always says we may have people get baptized or attend service, but there are thousands in Rapid City who don't know who Jesus is. We need to get out there and show them who he is."
To do that, Kinnan says the church is committed to "conviction decision-making."
"Our church was started as a result of a church split. Preferences led to the split and preferences governed our church for the first 20 years of its existence," he says. "Conviction decision-making allows space for a church to change when change is needed. Who and how we reach and disciple are rooted in what we believe we have to do. When we define our convictions, the changes we need to make and the vision we need to pursue become clear."
Fountain Springs' vision to be the hands and feet of Jesus includes supporting area families through a car ministry that includes a repair shop, as well as meeting various needs at 42 local schools.
"Schools are the epicenter of most communities," Kinnan says. "We offered to help, but the schools weren't interested. However, we refused to let that be the end of it. So, we got tons of doughnuts for the teachers' lounges. We just wanted to let them know we loved them."
This no-strings-attached gesture led to conversations that eventually turned into the schools allowing the church to do a few small projects.
"We did them well and paid for everything. Then we revamped a teacher workroom. We went all Extreme Home Makeover on it, and the teachers were blown away," Kinnan says. "That blossomed into other opportunities. Principals began calling us for help. Recently, an assistant superintendent called to see about building a stronger relationship with us."
Helping the church make inroads into the community is rooted in Kinnan's belief that the more time he spends with God, the more wisdom, guidance and confidence he can bring to his leadership.
"What my church needs from me comes from the Lord," he says.
Read more Outreach 100 fastest-growing church profiles »
FOUNTAIN SPRINGS CHURCH 
Rapid City, South Dakota
Lead Pastor: David Kinnan
Website: FS.church
Twitter: @DavidKinnan, @FSCChurch
Facebook: /FountainSpringsChurch
Founded: 1984
Affiliation: Wesleyan
Locations: 3
A 2017 OUTREACH 100 CHURCH
Attendance: 3,051
Growth in 2016: +331 (12%)
Fastest-Growing: 77