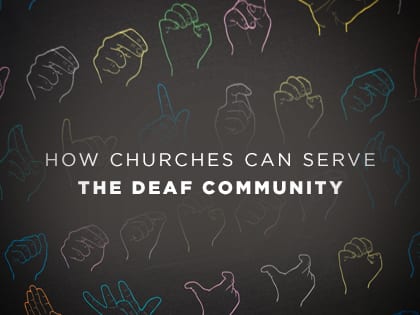 Gary Chadwick, a member of Burns Church of Christ in Burns, Tennessee, has been serving the deaf community for 43 years, ever since he began working in a Nashville church after the deaf minister resigned.
"It was never my intention to pursue a career in deaf ministry, but I saw the great need of taking the gospel to the deaf and had a change of heart," he says, noting that 95 percent of deaf people in the United States are unchurched.
Through his own experience, Chadwick cites three main reasons why deaf people typically avoid church: First, the majority of hearing churches in the U.S. do not offer any outreach to deaf people—and particularly to deaf children. Secondly, interpreted church services don't always meet the special needs of the deaf; and lastly, most American churches lack the skills necessary to make the message of God's Word clear to deaf people.
This last point particularly resonates with the deaf community—because although there are roughly 400 sign languages in use by deaf communities, not a single one has a complete translation of the Bible, including the American Sign Language (ASL). As part of their ongoing effort to deliver the Bible to the world's languages, Wycliffe Bible Translators, the world's largest Bible translation organization, recently launched a new international initiative to reach the deaf.
Given that only 2 percent of deaf people have been introduced to the gospel, Chadwick is encouraged whenever he sees hearing-impaired folks fill the pews.
"It's a joy to see deaf people wanting to learn the truth of God's Word with an open mind and a willing heart," says Chadwick.
To watch video clips, read testimony or learn details about Wycliffe's ongoing projects, visit Wycliffe.org/about.