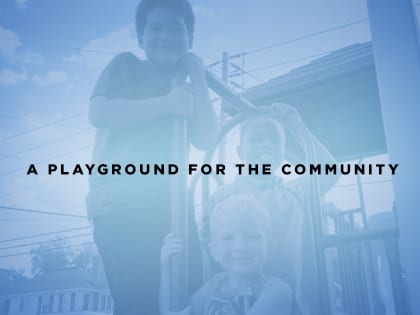 The Church: Conyers Presbyterian Church in Conyers, Georgia
The Challenge: Find a way to use the church's preschool to connect with parents in the surrounding community.
One Big Idea: Invite the entire community to use the church's newly acquired playground equipment, even during off hours.
When a parent at Conyers Presbyterian Church Preschool discovered she had a serious heart condition, she began to wonder about God.
"She didn't know how to pray or how that works," recalls Staci Lawrence, director of the preschool in Conyers, Georgia. "She's worried that the condition will mean the end of her life and, if so, what does that mean?"
Lawrence shared the gospel with the woman, who knew little about Scripture. That encounter is not an anomaly. In 2015, the church learned that roughly two-thirds of parents at the private Christian preschool didn't regularly attend services at Conyers Presbyterian or elsewhere. The preschool serves 60 children from about 40 families, according to Lawrence.
"For young families on Sunday mornings, church is competing with soccer practice and soccer games … you name it," she says.
But Lawrence, also director of Conyers Presbyterian's children's ministry, felt that the church needed to make a concerted effort to connect with their preschool parents and families in the surrounding community. After Conyers received a generous donation of playground equipment last year from an Atlanta Presbyterian church and decided to upgrade, Lawrence thought it would be wise to open up the revamped play area to the public. Conyers' previous equipment was so old that the parents of some of the preschoolers had played on it when they were children, she says.
Now, even when preschool or church isn't in session, local families can access the unlocked playground. The church is in downtown Conyers, an area that lacks parks, Lawrence says.
Conyers Presbyterian, which has an average Sunday attendance of 135, hasn't put any restrictions on the families who use the playground. Security cameras monitor the site, but vandalism and littering haven't been problems.
"This is as much as their playground as it is ours," Lawrence says.
Find more children's outreach ideas »
CONYERS PRESBYTERIAN CHURCH
Conyers, Georgia
ConyersPresbyterianChurch.AtlPCUSA.org