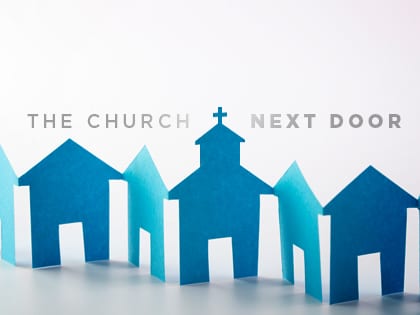 Kokomo church's urban outreach offers food and job coaching to the community.
One Sunday evening, Charlet Ayala stepped inside Trinity United Methodist Church in Kokomo, Indiana, holding her young daughter's hand and a hope that she might find peace. Ayala had lost her job during the recession, and without a high school diploma, was unable to secure work. Driven and desperate to turn things around, Ayala poured out her heart to Jeff Newton, pastor at Trinity and founder of Kokomo Urban Outreach.
Ultimately, connecting with Newton and his outreach transformed Ayala's life. She went on to earn her GED and graduated college with top honors.
After conversations with Ayala and others like her, Newton launched a new branch of the outreach called The Job Club, designed to help community members find work.
"People come into our food pantry and we listen to their struggles and spiritual needs," says Newton. "Then we connect them to jobs and to Christ."
Besides job coaching, the outreach also helps with the online application process, practice interviews and fashion consultation.
Located in a diverse, transient part of Kokomo, around 30 people attend Trinity every week. Each Sunday night, however, the church feeds 100 people on-site and an additional 500 to 700 in adjacent neighborhoods. To enable families to enjoy healthier meals at a lower cost, Trinity also offers cooking co-ops, providing seven meals for just $20.
Sadly, this past summer, tornadoes blew through Kokomo, destroying Trinity's community center, which they used for children's ministries, choir practice, Boys and Girls Club activities, karate lessons, computer instruction and fitness classes. The church also sustained roof and siding damage. Though they hope to erect a larger structure that will accommodate the church, offices, food pantry, kitchen and community center under one roof, it's too early to say whether that will come to fruition.
"This is a time of discernment and prayer as we determine what we can accomplish with the resources we have," says Newton. "We call ourselves the 'church next door' because we want to serve our neighbors. So we're eager to get back to doing just that."