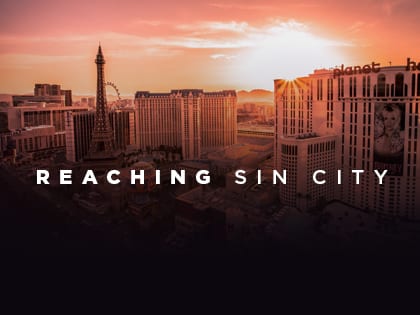 "I believe that the hand of God has been on our ministry in incredible ways. It just continues to blow my mind," Jim Crews says as he runs a hand through his spiky hair.
"One of the reasons that I believe our church has been so successful, is our heart for the poor," says Crews.
Crews is the pastor of Valley Bible Fellowship's (VBF) Las Vegas campus, a plant of VBF in Bakersfield, California—a 2016 Outreach 100 Church (No. 27 largest). The church is located near the geographic center of the Las Vegas Valley and within walking distance of the famous Strip.
Outreach to "the least of these" was woven into the fiber of the Vegas church from the very beginning. VBF currently has a food pantry, an adopt-a-block initiative, a van ministry to the local rescue mission, a vibrant partnership with an orphanage in Zambia, Africa, and much more.
For Crews, however, Las Vegas was never part of his plan. When the opportunity first arose, he thought, Vegas—that's so far away. "It was't even on my radar screen to do anything there," he says.
A Cal Poly Dude
His path to Las Vegas began at the California Polytechnic State University (also known as "Cal Poly") in San Luis Obispo, California. Crews was 19 and in his freshman year.
"I was doing the typical college routine and getting myself involved in extracurricular activities," says Crews, referring to the college party scene. "I was getting this real pull to abandon my faith."
When he came home for the summer, God changed his trajectory. Crews started to attend VBF Bakersfield's college group.
"I started hearing God speak to me," says Crews. "I wasn't a fully surrendered Christian until that summer."
He went back to Cal Poly each fall and continued to return to VBF Bakersfield each summer. During one summer, he met his wife, Tara, and they were married between his junior and senior years.
In the first few months of his final year in college, Crews heard a call from God. He was certain: This is what I'm supposed to do. I'm supposed to be a pastor.
After graduation, Crews went on staff at VBF Bakersfield. In 2001, he was enjoying a booming youth and college ministry, when his lead pastor, Ron Vietti, began to have a vision for a new church plant in Las Vegas.
At first, Crews and Vietti traded the pulpit each weekend, alternating between Las Vegas and Bakersfield. Then, Vietti had some health issues that required Crews to stay in Vegas with Vietti only visiting 10 to 12 times per year. This led to Crews becoming the lead pastor of the Vegas church plant.
Help for the Hurting
"Years ago, God gave us this Scripture to stand on as a church body," Crews says of Isaiah 58:10.
If you pour yourself out for the hungry and satisfy the desire of the afflicted, then shall your light rise in the darkness and your gloom be as the noonday.
Crews says this verse guided the church plant from the very beginning because they had seen it in action in Bakersfield. "I got to see the hand of God use us when we started to help the poor," he says.
Very quickly, Crews and his team began an outreach initiative in downtown Las Vegas. Right in the middle of office buildings and casinos, the church would gather 50 to 100 people from the street for a sermon and fellowship.
Crews is certain that this service is what led to the church outgrowing its original building and having to relocate to its current facility. He knew that moving a church always comes with some risk, but he didn't initially know exactly how big of a risk. "After we moved in, we were told by the police department that it was one of the highest-rated areas in the entire city for crime," Crews says.
But the high crime led to big opportunity. "We didn't really have to leave our front doors any more. The needy were coming to us," Crews says, adding that the church sees about five to 10 homeless visitors each week. This led to opening a food pantry every Saturday. VBF averages 3 to 5 tons of food given away each year.
A Product of Outreach
On any given Sunday, visitors are greeted at VBF's front entrance and handed a bulletin, often by a man named Ron Cornell. He wears a smile and greets everyone like they're part of the family. But when Cornell first came to VBF a few years ago, he looked very different.
"I had some jacked up teeth at the time. I was all skinny," Cornell says. "They would send a van down to the Las Vegas Rescue Mission and take us to services." Cornell had spent nearly 17 years on the streets and was getting his life in order with the help of the Mission. As part of their commitment to help the poor, VBF has made it a point to bring a vanload of Mission residents to church every Sunday.
Cornell says the community he found at VBF floored him. "Valley Bible just blew me away," he says. "Everyone was so loving. I was like, 'Wow, what is this?'" This love is what keeps him coming back: "VBF is my home church, and it always will be," he says.
The Days to Come
At this point, Crews really can't say exactly where the Lord is leading VBF in the future. Because the neighborhood has a large Hispanic population, the church is planning to start a Spanish-language service. VBF is completely landlocked, so they don't have much room to expand the facility—so Crews thinks expansion will happen in the form of satellite campuses.
"Let's go where the people are, who need it the most," Crews says. "I want to continue to explore more ways to reach outside the walls of our church."
To find out more about Valley Bible Fellowship Las Vegas, check out its website: VBFLV.org. For more of Crews' story, go to his website: ChangeofHeart.org.
Jeff Chaves is a freelance writer and pastor. He has been married to Peggy for more than 32 years, and they have four children. He is the pastor of Northpointe Community Church in Las Vegas, Nevada.