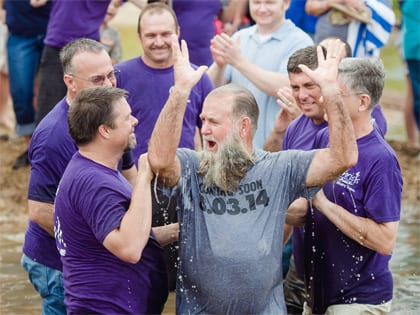 Christ's Community Church in Denham Springs, Louisiana, is changing their community through radical love and outreach.
One night two years ago, in a room just east of Baton Rouge, Louisiana, Chad Elrod circled up with about 60 other men. They held hands, shared what was going on in their lives, read from Scripture and prayed for one another. Afterward, two guys stepped forward and said they wanted to give their lives to Christ.
This wasn't a typical setting for a Bible study. The location: cell block C-1, Livingston Parish Detention Center. These men, Elrod included, were all prison inmates.
"All these inmates were just looking for a little bit of hope," Elrod says. "We're a bunch of criminals, and we're holding hands, praying to God. It was the most amazing thing I'd ever seen."
Elrod had been addicted to drugs and alcohol when, around his 25th birthday, the law caught up to him and he was ready for a fresh start. After a stint in rehab, he began attending services at Christ's Community Church in Denham Springs, Louisiana, where he reconnected with his childhood faith that he had abandoned years prior.
Elrod had a court appointment coming up. In front of a judge, he could decide to remain on probation for another year— or he could go to prison for 30 days.
"Every time I got on my knees for prayer, God kept telling me, 'Son, go to jail. Go to jail,'" Elrod says. "I was very young in my sobriety, very young in my walk with Christ. I was scared that I was hearing something that wasn't from God. So I questioned it."
This went on for weeks. Then, on the Sunday morning before the Tuesday court appointment, Elrod finally got the confirmation he needed by way of Senior Pastor Willis Easley's sermon.
"Willis started preaching the message, something about 'slaughter the cows, burn the plows and go do what I've told you to do,'" Elrod says. "I knew right then and there God was speaking to me. He was telling me to go to this correctional facility and go tell people what he's done for me."
After the sermon, Elrod approached his pastor and told him what God was calling him to do. Easley offered to accompany Elrod to court, and then went and visited him in prison the following Friday.
"I went to the jail on Friday to visit," Easley recalls, "and before I saw him, another guy came up to me and said, 'There's a guy here from your church telling everybody about Jesus.'"
Elrod's life-change story is just one of many to come out of Christ's Community Church. In the last year, around 135 people have been baptized— a significant percentage of the 500 or so who attend each week. Attendance has grown, as well, up from about 300 two years ago and 50 or 60 five years ago. Easley credits the increase to the church's mission to seek those who are far from God.
"We've got people from all walks of life," Easley says. "One of our core values is that we accept everybody. We believe it's our responsibility as believers to love others to Christ."
One of the church's primary outreach initiatives is called "Be the Church Sunday," in which volunteers—around 180 at the most recent event in September—split off into more than 30 groups and do mission work in the Denham Springs community. Activities include cutting grass, cleaning houses, paying for people's laundry, passing out hot dogs at the park, visiting nursing homes and hospitals and giving gift bags to police officers. When serving in the community, volunteers wear t-shirts that say, "This is church."
"We want to communicate the idea that the church is not a place or a building or an address," Easley says. "The church is the people of God out in the community making disciples."
Easley's church has changed location twice to accommodate growing numbers, although their most recent transition wasn't completely by choice. For several years, the congregation had been meeting in an old church building that belonged to the Eastern Louisiana Baptist Association (ELBA). Meanwhile, Easley and his team had their eyes on 10 acres of land that would better serve their needs, but they didn't have the finances at the time to move.
In early 2014, Easley learned that the ELBA had agreed to sell the old church property so the city could develop on the land. The church received several thousand dollars in moving expenses, allowing them to purchase the land they had been eyeing, but they only had a matter of months to construct a new building. They were able to meet their deadline by partnering with Sprung Structures, a company that specializes in expedient, versatile construction.
"Four months from the time we started erecting the building, we had our first service there," Easley says. "It was a sprint for us, but all the while we were still trying to grow the church."
Denham Springs is a growing community, Easley says. One of the most recent additions to the church's neighborhood is a country club and golf course, which back up to one of the poorest areas in the city. A 12-foot fence divides the property line.
"That's what I want to see in the church," Easley says. "I want to see people on both sides of that fence. That's been my goal, to create an atmosphere where people on both sides of that fence could feel welcomed and cared for."
According to Elrod, love permeates Christ's Community Church. He's become a leader in the church's Celebrate Recovery program, where he gets to continue sharing the gospel like he did in prison.
"When I first came to the church, straight out of rehab, I had hair down halfway past my back, and a big old beard. I looked like something out of Sons of Anarchy," Elrod says. "And this church just opened their arms to me."