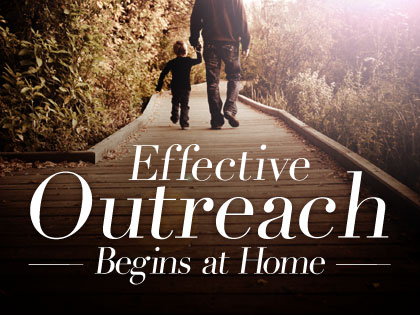 Kevin Harney: Four Reflections on Raising Kids Who Love God and Share Their Faith
Some kids who grow up in Christian homes end up bitter and cynical toward Jesus and the Church.  As a young believer I met pastor's kids who were running from God.  So, before I was married or even engaged, I began thinking and praying about how a Christian family could become a place of health where children grew to love Jesus and long to share their faith with others.
Today my wife Sherry and I have been married for almost three decades and we are on the other side of raising our boys.  Our sons are 27, 25, and 23.  The past thirty years have taught us some healthy and practical guidelines about raising kids who love God and know how to share their faith.  There are no simple formulas or iron-clad guarantees, but we have learned that there are some things that will really help in reaching your won kids with the gospel.
Make It Real
We can't give others what we don't have.  If we want our children to love Jesus with authentic and passionate hearts, we, as parents, must have a living and dynamic relationship with God.  This isn't about being "religious."  It comes from genuinely loving the one true God of the Bible who reveals himself as Father, Son, and Holy Spirit.  Parents who are apathetic or lukewarm about living for God can't expect their kids to shine brightly for Jesus.  We need to examine our own relationship with God and ask this simple question, "If my child grows up to have a faith like mine, would that be a good thing?"
Friendship with Jesus
When your children look at you, do they see a friend of Jesus?  Do they hear you talk about God with affection and joy?  Do your kids see evidence of the Holy Spirit alive and at work in your heart?  When my boys were young (and still today), I made sure to tell them that I loved God—even more than I loved them!  Of course, they were surprised to hear me say this at first. But then I told them that I loved God even more than I loved their mom.  That really shocked them, because they knew how crazy I was about their mother!
I explained that I can only be a good dad and husband if I love God first and walk close with Jesus.  When I am not following Jesus in faith, I am not the dad and father I want to be.  Today, if you were to ask any of our three sons who I love most in the world, they would immediately tell you that both Sherry and I love God more than anyone, including them.  Knowing this actually brings them comfort.
Passion for the Bible as God's Truth
Parents who want to see their children grow strong in their faith need to love God's Word and regularly read the Bible.  In our world, moral absolutes are questioned and the Bible is mocked.  Your children need to learn that God has clearly spoken in the Bible and has told us how we can enjoy a relationship with him. Our words and actions should model for our kids what it looks like to really dig into the Word and base our lives on the Scriptures.  They should see their parents opening the Bible and learning as the Holy Spirit speaks through Scripture.
A Place of Grace
The message of the gospel is grace to the core.  The apostle Paul put it this way, "For it is by grace you have been saved, through faith—and this is not from yourselves, it is the gift of God— not by works, so that no one can boast." (Ephesians 2:8-9) The gift of Jesus, his death on the cross, the payment for our sins, the glory of the resurrection…none of these are earned or deserved.  They are gifts of grace.  God knows all about our sin and yet he entered human history to die for us anyway.  "But God demonstrates his own love for us in this: While we were still sinners, Christ died for us." (Romans 5:8)  Your home and family will shine God's light as you receive the grace of God and share it freely with your children.
Grace rules a home when parents tell stories of how they have received the forgiveness of Jesus and model that same love by forgiving their children.  Parents set an example for their children when they repeat the story of their conversion, sharing the gospel with their kids, again and again, with awe-struck humility.  Parents inspire their children to seek God for themselves when they talk freely about how God loves, guides, helps, and forgives them, all in the normal flow of everyday life.
The culture of a home also reflects grace when parents refuse to speak judgmental words about people in their community, church, or extended family.  If we have sharp tongues and critical spirits behind closed doors in the privacy of our homes, our children see this and soon recognize our hypocrisy.   We can declare that we live in the love of God, but our words become a compelling witness that the gospel of grace does not yet rule in our heart and home.
By God's grace, all three of our adult sons have authentic friendships with Jesus.  They love the church and each of them enjoys participating in the life of a local congregation by using their gifts to serve God and others.  They are passionate about sharing the gospel with friends, family, and the world.  Each of our sons feels called to Christian service through the church, the mission field, or the arts.  My prayer is that these four ideas might help you raise kids in a way that will empower them love God and share the message of Jesus with others.
This excerpt is adapted from Organic Outreach for Families: Turning Your Home Into a Lighthouse by Kevin and Sherry Harney. © 2012 by Kevin and Sherry Harney. Used by permission. All rights to this material are reserved. Material is not to be reproduced, scanned, copied or distributed in any printed or electronic form without written permission from Zondervan.
Order from Amazon: Organic Outreach for Families: Turning Your Home into a Lighthouse