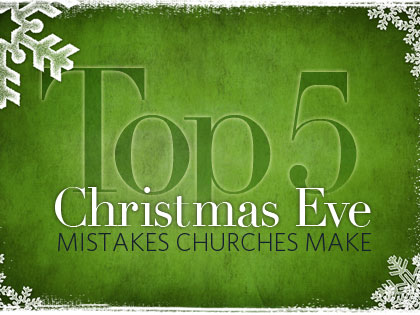 Every year I have to convince senior pastors Christmas Eve offers a powerful opportunity to reach out to their community and introduce people to their church. I still get thank-you notes from pastors who have discovered the potential of a well-planned and executed Christmas Eve service.
Is your church thinking strategically about your Christmas planning? As someone who works with churches throughout the country, I've seen numerous leaders making the same mistakes, specifically when planning and prepping for their Christmas Eve service. Below are my top five:
1. Give the staff Christmas Eve off.
This is a critical mistake a lot of churches make. Christmas Eve offers prime opportunities to reach out to people. This could likely be one of your best-attended services of the year. It's not the time to make do with a bare bones staff.
2. Offer only one Christmas Eve service.
Different time options give people a reason to say yes to an invitation to your service and afford them more leeway in their pre-existing Christmas plans. Even if you only have two services, one at 3 p.m. and another at 5 p.m., you give people a chance to come to church without forcing them to choose between a church service or dinner at Grandmas. By the way, Grandma wins every time.
3. Go creative.
At Christmas, people tend to want traditional, sentimental and warm over high-energy and creative. More people than you think are displaced from their families and are looking to make traditions of their own. You also create false expectations for the next visit when things are back to normal.
4. Don't have a message.
The no. 1 reason for whether or not people come back to a church they visited is how they felt about the preacher and the message. You don't need an hourlong message, but teaching pastors should have a 20-minute message to engage newcomers and share their heart and teaching style.
5. Don't give them a reason to return.
The first of the year is just a week away, and often people's New Year's resolutions include "get back into church." Promote a New Year's message series on Christmas Eve. Include the graphics and message titles in your Christmas Eve bulletin. Produce a QR code that takes people to a short video promoting the new series and inviting people back. You might be surprised by how many people take you up on the offer.
Maurilio Amorim is founder and CEO of The A Group, a media, technology and branding firm in Brentwood, Tenn., that started in 2001. In his role, he consults with some of the country's largest ministries, leading churches and Christian publishers. Follow him on his blog or Twitter.