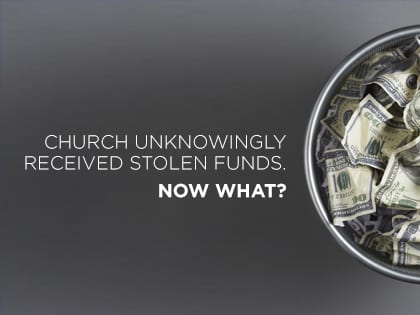 Church unknowingly received Ponzi scheme money in the offering. Feds now want the money back. What would you do?
GRANDVILLE, Mich.–The federal government has asked Resurrection Life Church to return $300,000 that it received from a man who was later indicted for running a $46.5 million Ponzi scheme. The money, which the man tithed from 2005 to 2009, has already been spent, according to Financial Pastor Bernard Blauwkamp.
An attorney named Bruce Van Heukelem claims cases like this one are common. A 1995 case involving several Christian organizations ruled in favor of the federal government, setting the precedent that churches and other ministries must turn their money over to the feds when asked. It is uncommon, however, for judges to ask churches to refund the entire amount, says attorney Frank Sommerville.
Van Heukelem told Christianity Today that the "ideal Christian response" would be to give back 100 percent of the stolen funds. Craig Blomberg, a professor at Denver Seminary, says he believes "paying it all back is great but not morally necessary," as doing so could unreasonably encumber the church's ability to do ministry.
Leith Anderson, president of the National Association of Evangelicals, agrees with Blomberg.
"The investor [in the Ponzi scheme] clearly is a victim. But the nonprofit or church has also been victimized," Anderson told Christianity Today. "There are multiple victims; therefore, accountability and responsibility should be shared."
What do you think? If this were your church, what would you do? Give back as much money as you deem reasonable, or find a way to return the stolen funds in full? And why? Share your thoughts in the comments below.