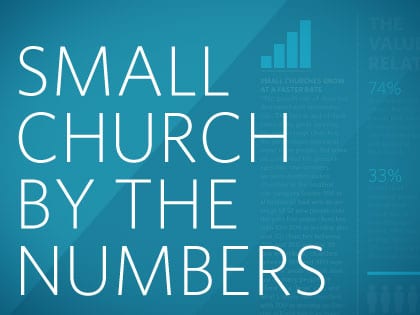 Fast facts: Putting the small church in statistical perspective
Small churches are more likely to plant daughter churches than are large churches … and other interesting facts
SMALL CHURCH ATTENDANCE
Adults under 35 years of age are more likely than are older adults to attend small churches.
25%
of baby boomers attend churches of 500 or more adults, compared to just 17 percent of busters.
—Barna
THE VALUE OF RELATIONSHIP
74%
of American Protestant churchgoers say they have developed significant relationships with people at their church.
33%
attend small classes or groups through their church four or more times per month, 14 percent, two or three times, 12 percent, one time, and 41 percent never attend.
42%
say they intentionally spend time with other believers in order to help them grow in their faith.
53%
say they intentionally try to get to know new people at church.
—LifeWay
SMALL CHURCHES GROW AT A FASTER RATE
"The growth rate of churches decreased with increasing size. This fact in and of itself came as no great surprise, because in large churches the percentages represent many more people. But when we converted the percentages into raw numbers, we were dumbfounded. Churches in the smallest size category (under 100 in attendance) had won an average of 32 new people over the past five years; churches with 100-200 in worship also won 32; churches between 200 and 300 average 39 new individuals; churches between 300 and 400 won 25. So a 'small' church wins just as many people for Christ as a 'large' one, and what's more, two churches with 200 in worship on Sunday will win twice as many new people as one church with 400 in attendance."
—Christian Schwarz in Natural Church Development: A Guide to Eight Essential Qualities of Healthy Churches. Schwarz is a German church consultant and the founder and president of the Institute for Natural Church Development, located in Germany. He surveyed more than 1,000 churches in 32 countries on six continents for the study.
THE AVERAGE CHURCH …
Attracts fewer than 90 adults on a typical weekend.
60%
of Protestant churches have 100 or fewer adults on a typical weekend. Just 2 percent of churches attract more than 1,000 adults on a typical weekend.
—Barna
CHURCH PLANTING CHURCHES
Churches of 200 or less are four times more likely to plant a daughter church than churches of 1,000 or more. The pattern continues: The smaller the size of the church the more fertile they are in planting churches.
—LifeWay Research