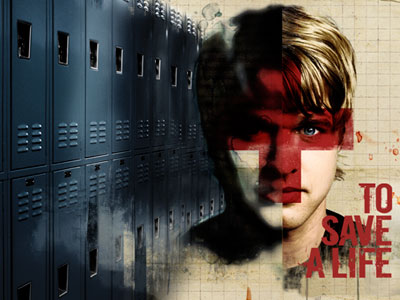 The successful indie movie that explores the challenges of teen life
To Save a Life
A New Song Pictures Production in Association With Accelerated Entertainment
Directed by Brian Baugh
2010
When popular high school athlete Jake Taylor's childhood friend commits suicide at school, it leaves Jake questioning everything in his life and whether he could have done something to save his friend. His search leads him to reach out to the outcasts and lonely at his school. Written by youth pastor Jim Britts, To Save a Life challenges viewers to make a difference in their own lives by using their time and influence to help others. The movie stars Randy Wayne, Deja Kreutzberg, Sean Michael Afable and Joshua Weigel. The movie is available on Blu-ray and DVD, and with a movie license package, may be shown at your church as a community outreach. Additional resources also are available.
To Save a Life and National Suicide Prevention Week made a perfect pairing to reach out last month. And the movie keeps yielding life-saving results! Read a few examples.
I had gotten out of going to church, but this past week I returned for movie night for To Save A Life. It had never spoken to me more than it did that night. My mom is a lot like Jake's dad. She left us, and I barely see her anymore. Many of my friends are cutters and are on drugs. I will be returning to church and making a difference in my community and my life. —Morgan
I am walking closer to God now because of this movie, and I am helping to keep people closer to God. I started my own Facebook group called I Am Not Alone as a way for people to reach out if they need help or prayer or just an ear to listen. —Peter
Thank God the students in my health class got me to show this video during our curriculum about suicide. The power of this video changed my life in so many ways. The most important for me was leading me to my relationship with Him! But most important for all of us was showing how important it is to be in tune with our friends' and loved ones' signals. I can't wait to view it again with my classes. —Todd
Choose your own powerful way to bring hope to hurting teens with this realistic, compelling film that cuts to the core of real teen life. Use the movie in your group with a Movie Event outreach, DVD sale or giveaway, or a follow-up study.
For more information: ToSaveaLifeMovie.com; ToSaveaLifeLeaders.com; OutreachFilms.com