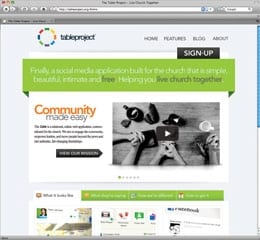 A free, Web-based social media application custom-tailed for the church.
The Table Project
Website: TableProject.org
Launched: 2011
Cost: Free
Facilitates community through a centralized online social hub for individual churches. Participants have the opportunity to introduce themselves, pray for each other; engage in church activities; and mobilize to serve others.
Some 70 percent of attendees at Substance Church in Minneapolis are under 30 years old, and more than half never attended church before Substance. For its technologically adept audience, the church began using The Table to strengthen community and intimacy across its four locations and seven services. Its Table now has 1,500 "members" and 2,500 prayer requests (prayed for some 37,000 times).
Learn more about tech solutions for churches in the March/April 2012 issue of Outreach.
Each issue of Outreach is designed to bring you the ideas, innovations and resources that will help you reach your community and change the world. Check out our current subscription offer »