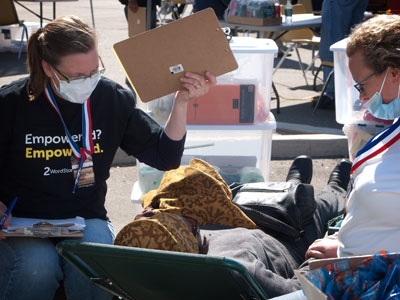 The Everyone a Chance to Hear initiative mobilized Christians to reach the community through good deeds and testimonials.
Jobless, Jeffery Johnson couldn't afford to make the repairs his Detroit home required. The kitchen floor needed grouting, and the basement leaked whenever it rained. Finally, in April, a crew from Handyman Ministries overhauled the home for free.
"Now, my family and I are able to sit at the kitchen table," Johnson, 48, says.
Plus, Johnson says that he's praying regularly and searching for a church home, thanks to Handyman's influence. The crew prayed for his family during the renovations.
Handyman assisted Johnson as part of an initiative called EACH, which stands for Everyone a Chance to Hear. The brainchild of Senior Pastor Bob Shirock of 3,300-member Oak Pointe Church in Novi, Mich., EACH involves more than 500 churches and Christian ministries around Detroit mobilizing to serve the community through good deeds and testimonials. The campaign launched on Easter and yielded medical and dental clinics, food drives, a prayer walk and home building for the needy over 40 days. It reportedly marked the first mass mobilization of southeast Michigan churches, with plans to do so annually.
Shirock says he got the idea to mobilize churches after traveling overseas and witnessing Christians uniting to serve the disadvantaged. Shirock yearned to replicate the outreach coalition in Detroit.
"I got my staff together and drew a circle representing a 12-mile radius on the white board and said, 'Let's reach everybody in this area," Shirock says.
To accomplish this, Shirock decided to call upon other churches and Christian organizations to serve. Black churches, white churches, and churches of all denominations united for the cause.
Bishop Edgar Vann of Second Ebenezer Church didn't hesitate to take part in EACH.
"We're calling the body of Christ to come and make sure the region understands that all of the other systems have failed. The government has failed," Vann says. "We want to let the kingdom know that Christ is the answer."
This article originally appeared in the September/October 2011 issue of Outreach.
For more on the EACH campaign:
EACH Initiative Continues to Have an Impact in Detroit
20K Expected in Detroit for April 16 Prayer Walk

400 Churches Commit to Unprecedented Detroit Outreach