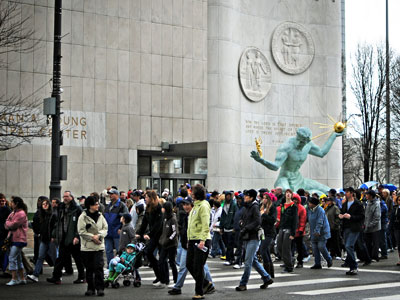 Hundreds of churches and parachurch organizations unite to serve others and share the Gospel.
DETROIT—For the second year, southeast Michigan residents are coming together from hundreds of churches and organizations to share the Good News of Jesus and do good deeds by offering free medical and dental services, food, housing construction and renovations to tens of thousands of residents in need. It's a continuation of the Everyone a Chance to Hear movement that launched last spring.
Thousands of individuals from approximately 560 churches and parachurch organizations from all over the city of Detroit and suburbs have become active members of EACH in the last year. The movement will officially kick off Easter Sunday, April 8.
"EACH was designed to be a one-year initiative, but something special happened," said Pastor Bob Shirock, senior pastor of Oak Pointe Church in Novi, Mich. "We went from being a group of individual churches to really being one church with one purpose … to share and show the love of Jesus to our communities through prayer, good news and good deeds. We decided to keep doing it, while finding more ways to share and show Christ's love to people in our communities."
The Detroit Prayer Walk, which last year attracted about 25,000 followers of Jesus to downtown Detroit, will be the first event where all churches will gather together. This year it will be April 28 at Comerica Park. New for this year, the walk will also include no-cost community medical assistance at a neighboring church. The Detroit Prayer Walk will feature the theme, "One Church Coming Together for One Purpose."
Since April 2011, the EACH movement has provided thousands of free meals and 3,500 hours of medical and dental service and repaired or refurbished more than 100 houses in the Detroit area. This is just one example of followers of Jesus sharing the Good News that they have heard from the Bible and implementing it into their own lives.
The EACH movement will significantly increase community assistance in 2012 through expanded deployment of mobile medical and dental trailers that provide no cost services to uninsured or underinsured people. They will also be expanding the housing construction and renovation effort and creating a community resource event called "Lovin' the D" on Saturday, May 19, in midtown Detroit on the Wayne State University campus.
"The impact that we have had on this region as believers of Jesus has been incredible when you look at all the people in need we have helped," said Pastor Christopher Brooks of Evangel Ministries in Detroit. "We're talking about thousands of people in need who have been helped by their neighbors, co-workers, friends and family. It's a very powerful message."
The coalition will continue to use the 2WordStory social media and personal testimony campaign that was launched as part of the movement in 2011 to show examples of changed lives through Jesus Christ.
"There is Good News all around us—here in the Detroit area because people have experienced the life changing love of Jesus and have made this a great place to live and work," said Pastor Doug Schmidt, senior pastor for Woodside Bible Church. "As a community, we are listening to Jesus' words and sharing His message with those around us. And there is no better way to share such a message of love than living it out."
Other programs that started from the EACH movement in the past year include Handyman Ministries, a faith-based nonprofit community revitalization organization dedicated to helping low-income individuals and families by providing free maintenance and repair services, energy audits and other upgrades; and Life Remodeled, a nonprofit organization that builds houses and provides other resources to transform lives in troubled communities.
EACH is guided by a steering committee with church leaders from both city and suburbs. The EACH effort started in 2011 and focused on a 40-day period starting Easter Sunday, but the hope that the impact and continued effort to help the community would continue into the future came to fruition. Most of the local church-based projects and actions will be determined by individual congregations and Christian organizations.
For more on the EACH initiative:
Hundreds of Churches, Ministries Serve Together in Detroit
20K Expected in Detroit for April 16 Prayer Walk

400 Churches Commit to Unprecedented Detroit Outreach