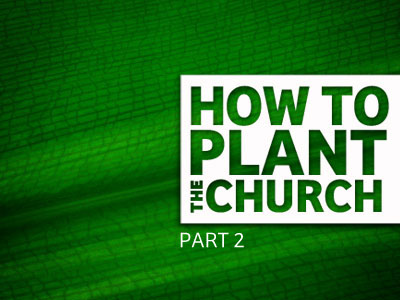 Church planters discuss how they chose the locations for their launch services and what unique factors about their communities affect their approach to ministry.
Finding the right location for the launch service plays a significant role in how well a new church plant reaches its community and builds momentum. And each community has a unique culture and atmosphere that must be considered as planters begin their churches. Here is how eight church planters from across the country tackled those issues.
How did you decide on the location for your launch service?
Scott Bloyer: My sister's kids go to [Dalton] Elementary School. She started telling me some things going on. So I went to the principal, and I said, "We just want to serve you. How can we do that?" She was like, "Oh, we're doing this and that. Would you mind setting up, tearing down, serving cake?" All that kind of stuff. I was like, "Yeah, no problem." And then we found out that the budget to redecorate their teachers lounge got cut. So we did a teachers lounge makeover. Out of that, it was like God was just showing us, "You need to be right here in this place and serve the people in this community."
Scott Bloyer, Lead Pastor, Elevation Church, Aurora, Colo., launched Oct. 10, 2010, with 227 attendees. Current attendance: 200
Damian Boyd: In our previews, we were meeting in a location that was a venue in Atlanta, and it was very expensive. I think it was $1,000 per time we met. Now to plant an urban church in an urban community with very little money, you can't do that. And the price was about to go up to $1,500, so we knew we needed a new location.
The reality is that in the community where we're going, there aren't a lot of venues that hold people up to a certain size. On the campuses, in particular, they are private campuses and they don't let churches, by and large, come on campus. So we had to figure out something else. The school we're doing a book drive for, we were hopeful we could meet there, but it didn't work out. So we thought of calling churches. We found a church that was actually on the campus for Clark Atlanta University. The school built up around it. It's a hundred-year-old church that seats only about 130 people, but they just have a very godly pastor who realized what we were doing, and he said, "We would love to have you be a part." The price was less than 10 percent of what we were paying for the event venue, which was a bit of a miracle, and it put us right on the campus where the students are. So it was a God moment; it was a God opportunity for us to be exactly where we needed to be.
Damian Boyd, Pastor, Vertical Church, Atlanta, launched Feb. 12, 2012, with 100 attendees. Current attendance: 50 to 100
Aaron Graham: [Washington,] D.C. is a city of contradictions. It is the most educated city in the country but has some of the lowest performing public schools. Improving the public schools has become a great opportunity to bridge the two D.C.'s. Half of our launch team were public school teachers committed to doing exactly that. We found a great school that was only a block away from the subway that was a former church! In fact, it is an old Presbyterian church where President Woodrow Wilson was an elder and where President Herbert Hoover attended. The church closed down in the '70s and became a nightclub before the current charter school renovated it and moved in 10 years ago. I think we felt a bit like this was an opportunity for God to not only rebuild His church in our lives, but also rebuild a church in this location. Being in a school is important to us because it feels like our rent money is like mission dollars because its helping fund more teachers for this urban school that serves low-income families.
Aaron Graham, Lead Pastor, The District Church, Washington, D.C., launched Sept. 18, 2010, with 50 attendees. Current attendance: 280
Ken Hubbard: We kind of followed a little bit and learned a lot from Church of the Highlands in Alabama. We first started meeting in a movie theater, but one of the things we did not like for us was before church would be done, movies would start. So we didn't feel like it was a secure environment for checking in and out children. [Church of the Highlands] had planted nine campuses in schools. So I went and visited how they were doing church in schools, how they would set up, and the technology that was needed and all that. I saw that model being very successful. And I was wanting to keep our overhead as low as possible without any debt.So that's how we decided to meet in a school.
Ken Hubbard, Pastor, New Generations Church, Canton, Mich., launched Oct. 2, 2011, with 263 attendees. Current attendance: 130
James Johnson-Hill: We did the Cameron Center, the local community center here in Laurel, Miss. We chose it because we could afford it, and it met our needs. They gave us a sweet deal: $40 an hour, and we got the whole gymnasium—bathrooms, racquetball courts and a classroom, great parking. It was pretty centrally located. A cross-section of people knew what it was.
James Johnson-Hill, Lead Pastor, Agape Church, Laurel, Miss., launched April 4, 2010 (Easter), with 55 attendees. Current attendance: 100
Matt Miller: New City was on track to meet in a local middle school. But we came across a permanent 14,000-square-foot space. The space was an abandoned three-screen movie theater. The theater was in a mess and needed some serious renovations. So, four months and $260,000, later we moved into our new 24/7 space. A God thing in this is that we didn't pay the $260,000. The people who own the shopping center paid the bill and allowed New City to design it! The major factor that allowed us to make this permanent move is that we had committed funds that would allow us to make this move and not be in a financial bind. And the rent is dirt cheap.
Matt Miller, Lead Pastor, New City Church, Shawnee, Kan., launched Jan. 8, 2012, with 322 attendees. Current attendance: 220
What factors unique to your community did you account for in raising interest in your church's launch service?
Paul Andrew: New York City is a different setting for church planting than many other parts of the country, and some of our strategies reflect those differences. For example, we did not do a mailer as many of our friends in other places do, partly due to higher costs there, but more so because the likely target audience for that approach is small. So instead, we emphasized creating a sense of family and community and used tools like social media to amplify the relational ways in which people typically connect with the church. We set out to keep our ministry simple and streamlined in a city where people have even less margin in their time.
Paul Andrew, Lead Pastor, Liberty Church, New York City, launched Jan. 23, 2011, with 150 attendees. Current attendance: 200+
Bloyer: I think we had an opportunity that most people don't because this is where we had come from. And we do have people that show up that I used to go to school with just to see if it's real.
 I've gotten to the point where I've been telling other church planters, "If you have an opportunity to go back and start where you came from and you don't, you're an idiot." The relational equity is incredible. I walk into the public school system where we're leasing our school from, and one of the guys in the office was my former baseball coach. And he's like, "Oh, dude, yeah, we'd love to be able to work with you." Whereas if I wasn't that person, it may have taken me a year to earn just the right to be heard in that atmosphere. To walk onto the high school campus because the guys that I coach football with knew me as a football player. That I have opportunities now to speak into people's lives because they knew who I was before I gave my life to Christ and they know me now. I have people tell me time and time again, "We can see life change in you, so it makes us want to come check things out."
Graham: With urban church planting in our context, people do not seem to get excited about a big launch service. Many believe church is part of the problem with our society, so having a cool church with a cool tagline is not going to address their fundamental questions.
 Our strategy was to launch in three phases and to make it highly relational but to have enough specific timelines to help us discipline ourselves around some specific objectives and deadlines. Our first phase was meeting in our home with the core launch team. Our second phase was our soft launch where we became public and invited people we did not know for the first time, but without a big push. Our third phase was going to be a much bigger launch where we did promotion, bought a sound system, and had our kids city ministry up and running. But our church began to grow so quickly that we did not have a need for a big launch. We did everything more gradually. In hindsight our third phase felt like when we went to a second service a year after we did our soft launch. In many ways I feel like we are always in launch mode given our vision to start more services, campuses and churches throughout our city.
Hubbard: Detroit and the suburbs over the last four years have been hit hard. A lot of people were hardened in the fact that there was a season that we were the No. 1 foreclosure city in America. People have lost jobs, lost their homes. A number of churches have closed up. There was this feeling of, "Our communities are falling apart." So when we sent out mailers and we did interviews, we were very careful in our terminology. We didn't use any vocabulary like, "Hey, we're coming into save the day." But we used a lot of terminology like, "We're launching to make a lasting difference in your life and community"—that kind of verbiage.
Johnson-Hill: The community is about, I believe, 60/40 African-American folks to white. We have a growing Hispanic population. We are one of two interracial churches. The first one started 10 years ago, and we're the second, so that really gives you an indication of where Jones County is. It's still fairly a new concept to have an interracial, interdenominational church, but it's growing.
Mississippi is very much, I don't know if it's fear, but just really, really cautious about outsiders. You really couldn't feel people exhale, so to speak, until they heard the story of where my whole family was from here. And then it was, "Oh, so you're just returning home." Until then, there's a real, real cautious, watch-and-see mentality here. And that does not quickly go away. It's going to take time because they're used to people coming and then sort of not making it and going. But really what's key to getting people coming to the church was we just started serving. We started being around. They could see us. We were very visible. We sounded so much different than anybody else. There was a little bit of a novelty in that—not having southern accents. And then we just stayed very approachable. We just had these moments of just talking with people, of just connecting with people.
We're in a county where there's more churches per capita than any other county, so we always got the question, "Why another church?" And it was really clear to me when we were coming here to plant the church that God had charged us with one thing: We were not just supposed to be a church that had a bunch of different colored or aged faces. God didn't call us here to be an interracial church. We were supposed to be a church that looked like heaven. And what did that mean? That meant not just different colored faces and different aged faces, but a church where people genuinely loved one another, where that was the standard. In order to love people, you've got to live life together. You've got to hurt when they hurt. You've got to celebrate when they celebrate. You've got to lay down your first identity, being necessarily your racial heritage, and your first identity has to really be in Christ. And so that was what we built. The inroads were just you were there for people. When something happened, you just showed up and you were intentional about that. I never have made race a platform, even though I believe it's something God has sent us here to tear down. Our team looked like what we wanted our church to look like, so they saw us. It was nothing for one of our team members who wasn't the same color to pick up our kids from school and help us out. … We just did life that way. This was normal life. That was important.
Miller: Although New City Church is in a very white and wealthy county (Johnson County), our neighborhood is very diverse. Our next-door neighbor, Shawanoe Elementary, is made up of 17 spoken languages and 46 percent of the children are Hispanic. There are over 4,000 apartment units in our neighborhood as well. However, travel two blocks in any direction, and the demographic completely changes to white, upper middle class. These opportunities led us to being the only (to my knowledge) church that offers live Spanish translation during our service. Also, during our Free Friday Family Movie Nights, we show the Spanish subtitles during the movie.
Aaron Monts: Being in a large city we knew there wasn't any way that we could raise interest level for our new church on a citywide basis, so we set out to start small and build momentum. Our city eventually gained a greater sense of awareness because of what we were doing as a community instead of through advertisements. Perhaps our most well known "advertisement" came in the form of a New York Times article that released two years after our launch. This was the best "interest raising" we've had, but it wasn't about a launch gathering. Rather it was about what we had become.
Aaron Monts, Lead Pastor, Ikon Christian Community, San Francisco, launched Oct. 11, 2009, with 90 attendees. Current attendance: 75