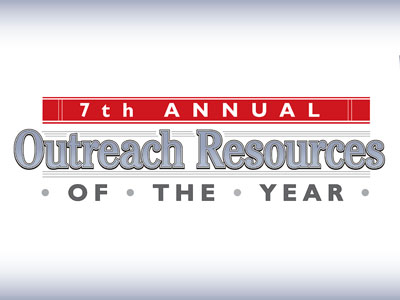 Honoring the Best Books and Media in Evangelism, Justice, Cross-cultural Ministry, And More
Continuing its effort to recognize the best outreach-oriented books and media produced each year, Outreach magazine is accepting nominations for the 7th Annual Outreach Resources of the Year Awards.
The awards honor resources specifically focused on outreach in areas such as evangelism, justice and compassionate service, and cross-cultural ministry in the United States and around the world.
Your nominations are the critical first step in determining what resources will earn that recognition. The winners will be announced in the March/April 2010 issue of Outreach magazine.
As you evaluate potential nominees, please submit only those resources that you believe best emphasize outreach ministries. Nominated works will only be considered if they were released and in stores between Nov. 1, 2008, and Oct. 31, 2009.
To submit a nomination, please download and complete the Nomination Form (from the Attachments box in the right-hand column) and e-mail it back as an attachment to [email protected] with "ORY10 Nomination" in the subject line. Please include the full title and subtitle of the nominated work. You will receive a confirmation e-mail when Outreach has received your nomination form. Also, please mail two copies of the nominated book or other media resource, with a copy of the nomination form attached, to:
Attn: Scott Marshall/ORY 2010
Outreach Magazine
2230 Oak Ridge Way
Vista, CA 92081
NOMINATION FORMS AND COPIES OF NOMINATED MATERIALS MUST BE RECEIVED ON OR BEFORE NOV. 9, 2009.
The Outreach editorial staff will examine all of the nominated works and decide which ones will be forwarded to independent expert panelists who will evaluate the nominees that are within their area of expertise. The panelists will select the winners.
Thank you for your participation.
MORE INFORMATION
Contact Scott Marshall
760-940-0600, ext. 3254