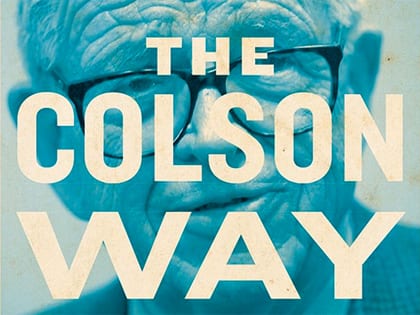 Owen Strachan: Loving Your Neighbor and Living with Faith in a Hostile World
Resource of the Year: Evangelism
The Colson Way: Loving Your Neighbor and Living with Faith in a Hostile World
By Owen Strachan (Thomas Nelson)
A fascinating glimpse into the life and lasting legacy of Charles Colson, who lived a life beyond politics by bringing a compassionate, compelling Gospel into the public square.
In The Colson Way, Owen Strachan makes a strong case that Colson's lasting legacy is just getting started.
In addition to establishing Prison Fellowship, Colson dug deep into practical theology, expanding his and our understanding of how Christians are called to interact with the world. "Theology, he saw, is calibrated for action" (Page 86).
Strachan's book is easy to read, but never trite, showing us how Colson's active theology flowed from a life of deep, passionate, practical ministry. In an era mostly devoid of moral exemplars in the public square, Strachan presents Colson as a wonderful, though unlikely, mentor for the next generation.
EVALUATED BY KARL VATERS, author of The Grasshopper Myth: Big Churches, Small Churches and the Small Thinking That Divides Us. He pastors Cornerstone Christian Fellowship in Fountain Valley, California, and blogs at NewSmallChurch.com.