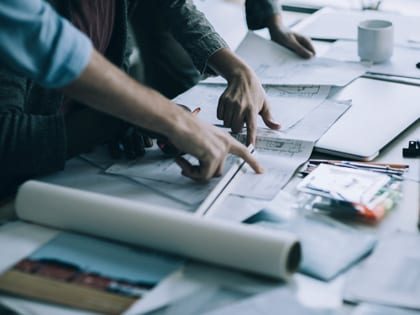 Also from Visioneering Studios:
• 7 Steps to Improve Your Wayfinding
• 7 Questions to Ask Before Hiring a General Contractor
• 10 Design Secrets to Creating a Killer Lobby
• 9 Signs That It Might Be Time to Hire an Interior Designer
• 7 Causes of Building Project Burnout (and How to Avoid Them)
---
If you're like most leaders, nearly everything you've learned about architectural design and construction you've either picked up from HGTV or discovered by hanging drywall on a high school mission trip almost a decade ago. Perhaps you even attended a Christian college and researched Nehemiah's leadership acumen as an undergrad, but somehow were never trained for the modern-day rigors of leading a building project. So if the idea of choosing an architect sounds foreign, you're not alone. Though most church leaders know how to exegete remote parts of Leviticus, many feel entirely ill-prepared to lead their organization through the treacherous terrain of selecting an architect.
There's a lot on the line here. Think about it. This single decision will ultimately shape what ministry looks like in your church for generations to come. You can't afford to misfire.
So before you hire your architect, make sure you evaluate the architectural candidate by starting with these seven questions.
1. Does the architect currently hold an active architectural license in your state?
For goodness sake, only hire an architect with an active architectural license in your state. I'll be honest, this sounds like a no-brainer, but we have seen some doozies in our time. I've talked to pastors who've paid hefty bucks for architectural services only to discover that they threw money out the window for plans they cannot use. Imagine explaining that little snafu to your tithing church family.
Technically, an unlicensed firm should never even draft a proposal for Master Planning or architectural services without the proper licensure, yet the shady ones still do. Make sure to keep your distance from any company that's willing to risk their license and integrity to get the job.
A precise yes or no question should resolve any mystery about a potential firm's status. If the firm is evasive or replies no to this first question, just hang up—immediately. There's too much on the line—don't risk it.
2. Does the architect specialize in what you're building?
You would never hire a pit master to bake your wedding cake. Though I'm sure he's a wiz in the kitchen; only a skilled pastry chef has the culinary chops to provide tasty ribbons of icing across a chocolate sea of ganache. This decision is no different.
If you're building a school, hospital or theme park, it makes sense to hire the team that specializes in those environments. And if you are designing a church, it only makes sense to hire an architectural group that knows how to outfit your team to accomplish the specific ministry goals that God has placed on the hearts of your leadership.
Church buildings tend to encounter more design complexity than most buildings ever require.Think about it. Churches need parking lots with fast turnover, performance venues with exacting technical specifications and children's environments that are safe and engaging.
The volume of specialized needs required to seamlessly design your building is staggering. Make sure to hire a team with the specialized knowledge required to get this right the first time. Otherwise, you'll be fixing the architect's mistakes for years to come. In fact, right now, you may be living in the wake of someone else's cut corners. So if the leadership is going to raise the bar and call the community to make tremendous sacrifices on behalf of the mission, then as good stewards, make sure you choose a team with the specialized knowledge to design it right the first time.
3. Who will design our project?"
Remember that the guy who sells the job is rarely the guy who draws the job. Gorgeous 3D renderings and photos of finished projects tend to have a mesmerizing effect. As I travel across the country, I'm shocked by how rarely clients ask about the specific artist responsible for the work. Don't miss this. Make sure to be precise with your questions: "Who will design our project?" "Did he or she produce these renderings I am seeing?" If not, "May I see specific examples of the work created by the person who will be working with us?"
4. Do I want a hired gun or a team member?
When you go white water rafting, there's a big difference between the guy who rents you the boat and the brave guide who runs the rapids with you. Always hire the guys who're going to get in the boat and help you navigate the river. Most churches aren't just hiring someone to draw up a building and walk away. They want someone who is invested in the vision and cares about kingdom impact.
Building the "next phase" is about more than just bricks and mortar. It's about the next generation of lives changed. So avoid the architect who is gunning to draw a "work of art" for their portfolio instead of listening to discover and design God's unique story in your community. Partnering with a team that genuinely understands the subtle nuances of ministry life and that can speak your language is a game-changing decision. The trick to answering this question is simple: just ask the architect to explain their entire design process in detail, and you should get a clear sense of what you might be getting—a hired gun or team member.
5. How will the architect manage the budget throughout the process?
Architects who traffic in blueprints and ink are rarely informed to the rising price of steel or the shortage of drywall mud due to drought conditions. Construction budgets change faster and more often than iPhone updates. Because architects spend most of the day dragging a mouse instead of swinging a hammer, it's almost impossible for your designer to dial-in an accurate construction budget without real-time field intelligence. So unless you're ready to write a blank check, make sure that your designer has a plan and accountability for managing and maintaining the budget throughout the entire design process.
6. Has the firm been recognized by the industry for their work?
In the church design world, architects can receive something called the "Solomon Award." It's the architectural equivalent of an Oscar. The award indicates that the team has been recognized by the professional design community for excellence in their work. Be sure to ask the architect if they have a couple of these trophies collecting dust on an office bookshelf. Then double check to make sure that they actually earned the award for architectural work and not some other type of design.
7. Are you inspired by the architect's work?
Take a second to thumb through their portfolio. As you review the designer's work, pay attention to knee-jerk reactions. Do you find yourself dreaming a little as you see completed projects? Is your heart beating faster? Can you imagine ministry housed in the walls of their work? Are you encouraged? Did God stir? If not, keep looking until you find yourself inspired.
Be relentless about asking and answering these seven questions as you take the first steps of your building project. If you are diligent, these tests will help you interview, evaluate and eliminate architectural candidates until you are left with one that will help you fulfill the vision that God has embedded deep within your heart.
Also from Visioneering Studios:
• 7 Steps to Improve Your Wayfinding
• 7 Questions to Ask Before Hiring a General Contractor
• 10 Design Secrets to Creating a Killer Lobby
• 9 Signs That It Might Be Time to Hire an Interior Designer
• 7 Causes of Building Project Burnout (and How to Avoid Them)
Dave Milam is vice president of strategic design at Visioneering Studios.
Visioneering Studios is a nationally licensed real estate, architecture and construction company with multidisciplinary offices throughout the U.S. Visioneering has partnered with many of the fastest-growing ministries in the world. VisioneeringStudios.com