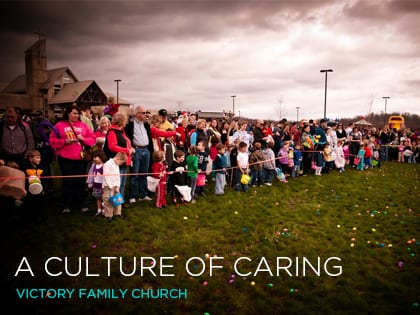 Victory Family Church Creates Atmosphere of Care and Evangelism
Kara Owens recalls the days when she and her husband would drive three hours from their home in Ohio to Cranberry Township, a suburb 20 miles north of Pittsburgh, to attend Victory Family Church's Growth Track classes.
Owen's husband had accepted a new job in the Pittsburgh area, and the couple began attending the church on weekends before they made the final move to Pennsylvania. Her husband had grown up in church, she says, but he fell away as a teenager. But in recent years he began attending services again, and, so did she.
In the Growth Track classes, prospective members can learn about the church's vision and structure and the beliefs Christians need to have to walk with Christ. Growth Track even has a series that assists people in identifying their personality traits and discovering the area of ministry for which they are best suited.
"I wasn't a very spiritual person before coming here," says Owens. "But the way Pastor John teaches makes it understandable for everybody, and the praise and worship is wonderful."
Victory Family Church is a nondenominational congregation under the leadership of John Nuzzo and his wife, Michelle. The church features casual and contemporary worship services on Friday nights for youth and young adults at 6 p.m. and 8:30 p.m., respectively, Sunday mornings at 10:30 a.m., and on the first Wednesday of the month at 7 p.m.
The church's location, Cranberry Township, has a population of 30,170, according to the U.S. Census Bureau. The city is 94 percent white and is home to major corporations like Verizon Wireless, Westinghouse and Alcoa.
As a result, many like the Owens family move in and out of Cranberry Township due to job transfers. It is a situation that Victory's associate pastor and business administrator, Matt Gates, says is often challenging for the church.
"You have a lot of people who come and go," he says, "so you're constantly having to talk about the vision and share what you believe God has called you to do so everyone is working on one vision and toward the same goals. But it's a good challenge because it keeps the vision fresh and keeps you talking about it instead of assuming that people know it."
Gates says the congregants play an important role in fostering the church's growth.
"We've really worked on developing a culture of evangelism where the people who attend here are empowered to reach people for Christ in their everyday life," says Gates. "Rev. Nuzzo is constantly encouraging people to witness and invite others to come to church where they can hear the gospel of Jesus Christ."
Gates says implementing "strategic discipleship" through programs like small groups has also been important for church growth. Victory Family Church has several small groups for men and women, and participants can meet in their homes, restaurants or other locations to study the Bible and connect with other believers.
In addition, the leaders urge congregants to join the church's "Dream Team" and volunteer in the church.
"We encourage our people to care for one another, and they're empowered to work in the ministry every day and not just on Sundays," Gates says. "They are the body of Christ. So, you have hospital teams and people taking meals to those who are sick, and if people are in need, we think about how we can connect with them to help them through that need."
Creating an atmosphere of caring, says Gates, helps with retention.
"[We are] loving one another and loving anybody who walks in that door and caring for them," he says, "whether it's meeting them in the parking lot with an umbrella because it's raining or opening a door for them, that's part of the culture we've created here."
VICTORY FAMILY CHURCH
Cranberry Township, Pa.
Senior Pastor: John Nuzzo
Twitter: @JohnNuzzo
Website: LifeAtVictory.com
Founded: 1993
Affiliation: Nondenominational
Locations: 1
A 2015 OUTREACH 100 CHURCH
Attendance: 2,865
Growth in 2014: +283 (11%)
Fastest-Growing: 86