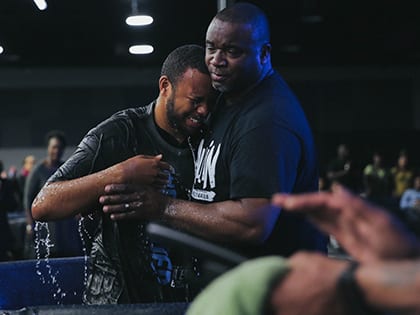 No. 20 Fastest-Growing: World Overcomers Christian Church in North Carolina Reaches Men, Young Families
La'Shawnda Kendall laughs as she recalls how much time she spent in church each week while growing up.
"I swear, it felt like I had a bedroom at church," she says.
But her husband, DeWayne, attended church only occasionally during his childhood.
"When we got married 15 years ago," she says, "we struggled with finding a church home because I was from a Baptist background and my husband was not, and we wanted to find something that fit us both."
So when the couple heard about World Overcomers Christian Church, a nondenominational church in Durham, North Carolina, they decided to check it out.
"From our very first visit, my husband said, 'I like this church,'" she says, "and for him to say that, I was sold. It was awesome for me, too, because of the type of learner that I am. Pastor Andy put notes on the screen, and when I saw that, I said, 'Yes!' because I like taking notes."
Today, the couple works in the church's outreach ministry. Additionally, La'Shawnda volunteers in the church bookstore, and DeWayne assists the IT department.
Senior Pastor Andy Thompson describes the congregation as predominantly African-American, but says the style of service differs from a traditional black church.
"Our church is more of a modern, contemporary atmosphere for an African-American church," he says. "The church is also about 48 percent men, and we have a lot of young families and young couples."
Thompson, the son of a clergyman, grew up in Boston. After high school, he traveled west to attend Rhema Bible Training College and to work at Higher Dimensions Family Church in Tulsa, Oklahoma. But around the year 2000, Higher Dimensions' pastor, Carlton Pearson, sparked a national controversy when he publicly disavowed the existence of hell.
Thompson says he soon decided the time had come to start his own ministry. In 2002, he and his wife, LaShawn, felt called to North Carolina and established World Overcomers in 2003.
Besides the main campus in Durham, World Overcomers has a church plant 25 miles to the east in Raleigh. Both campuses are within the state's Research Triangle Park, the largest research park in the nation. Soon after opening World Overcomers, Thompson partnered with a local television station that aired some of his sermons.
Being on local TV helped distinguish the 35-member church, and soon membership began to swell. By the end of the second year, some 1,200 congregants attended each week. In addition to the early television exposure, Thompson says his long-time practice of mentoring young men also has contributed to the church's growth.
"I learned discipleship from my father in Boston, and I had discipled young men in Boston and in Tulsa," he says. "When I moved to the Durham area, those men wanted to be here with me and moved here. So, when we first started, there were more men in the church than women."
And when men see other men leading in the church, says Thompson, they feel encouraged to bring their whole families.
"When Dad goes to church," says Thompson, "everybody goes."
The church has invested heavily in its "Overcomer Kids" ministry, which is also a draw for young families.
"The most important thing for us is that they have fun," says Thompson. "We're going to teach them the Word. We're going to teach them to worship. But the rest of the time is almost like a Chuck E. Cheese's, where the children just come and have a good time."
Concerning spiritual leadership and making decisions on where to place resources within the church, Thompson quotes Mark 4:24: "Take heed what ye hear: with what measure ye mete, it shall be measured to you," making the argument that church resources must first target the vision that God has given the senior pastor for the ministry.
"The most important thing I've learned is that leaders have to meet the measure of the senior pastor," says Thompson, "and the senior pastor has to know what his measure is, because that's where the Spirit of God is going to meet the church and the measure of the senior pastor."
Read more Outreach 100 fastest-growing church profiles »
WORLD OVERCOMERS CHRISTIAN CHURCH
Durham, North Carolina
Lead Pastor: Andy Thompson
Website: WorldOvercomers.church
Twitter: @PastorAndyWOCC, @IFollowWOCC
Facebook: /WorldOvercomers
Founded: 2003
Affiliation: Nondenominational
Locations: 3
A 2017 OUTREACH 100 CHURCH
Attendance: 11,780
Growth in 2016: +1,554 (15%)
Fastest-Growing: 20
Largest: 29